AH2 Music turns 10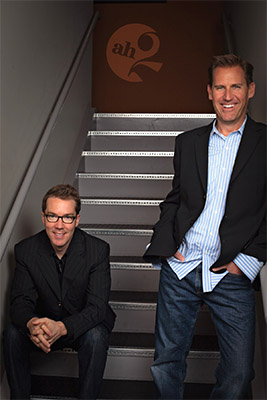 Composers Jeff Lippencott and Mark T. Williams, Co-Founders of Ah2 Music, are celebrating the 10th Anniversary milestone of the company with a variety of new television projects.
Ah2 Music has been tasked with producing new music for a number of upcoming television programs. These include: "Junior MasterChef" (Fox,) and "The Quest" ABC.) These new shows join the company's on-going contributions to the popular TV shows: "Shark Tank" (ABC,) "Biggest Loser" (NBC,) "MasterChef" (Fox,) "The Apprentice" (NBC,) "Hotel Hell" (Fox,) "Who Wants to be a Millionaire?" (Disney-ABC,) "Who Do You Think You Are?" (TLC,) and many others.
Ah2's 10th Anniversary comes on the heels of a number of other recent, major company accomplishments. These include Lippencott and Williams having just won eight ASCAP 2013 Film & TV Music Awards, the release of the newly branded "Filtered Music" catalog, and the naming of longtime Universal Music Publishing Group executive Scott James to the post of Vice President of Business Development.
"We are truly excited to be marking the 10 year anniversary of Ah2 Music," Lippencott and Williams said. "We've never been busier. Our music is heard regularly around the world in well over a hundred countries. And with Scott now on-board, we are planning to extend our outreach further into the areas of feature films, trailers and documentaries, commercials, branded content and digital media. Thanks to our loyal, long-time clients, our future looks extremely bright as we plan ahead for our second decade in business."