Rachel Maddow's 'Cocktail Moment' graphic gets awkwardly cut off online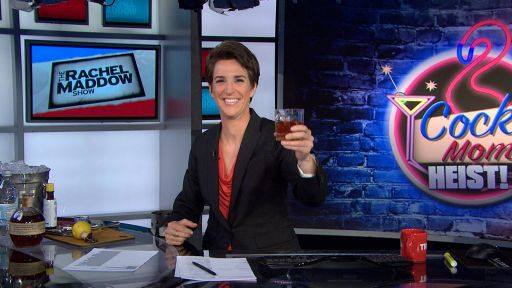 On Friday's "The Rachel Maddow Show," host Rachel Maddow served up an installment of her "Cocktail Moments" segment.
During the segment, the large rear projection screen used as an OTS displayed a large topical graphic.
In multiple online uses of the image, however, MSNBC cut off the graphic at a rather unfortunate location, leading the graphic to read as something much different, as shown above.
The trimmed graphic appeared on the show's social media pages as well as on the front page of the newly redesigned MSNBC.com.
Here's how the graphic looked on air: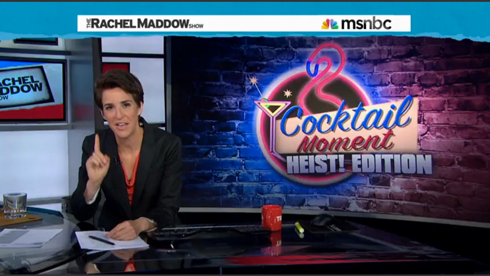 Fortunately, even at 4:3 framing, it appears the graphic wouldn't have gotten cut off in the way it was done online, even though we've noted MSNNBC (and especially "Rachel Maddow") appears to be paying less attention to that issue when designing OTS graphics for this particular large screen of late — we've spotted a few other times where these graphics would have been blatantly cut off at 4:3.
Of course, the prevalence of 4:3 screens is continually diminishing, but it's still a factor in designing TV news graphics and the MSNBC main graphics package still takes it into account, avoiding placing crucial elements in the far left and right sides (as shown with the white bar running across the top of the screen).