Today.com launches new homepage on heels of Studio 1A makeover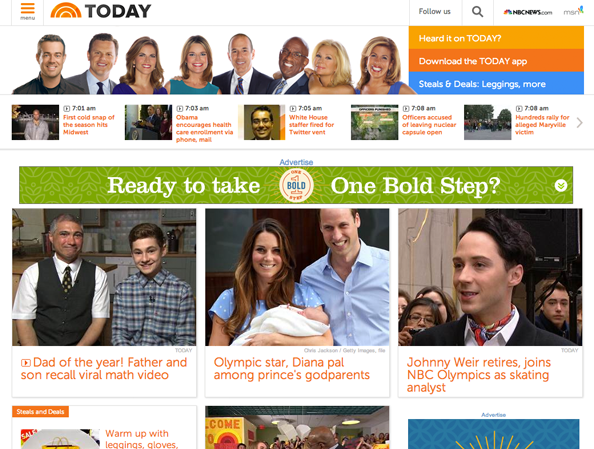 NBC News Digital has launched the latest iteration of the "Today Show" homepage.
So far the new look only appears on the hompeage hasn't been extended to inside pages, though the two designs are fairly close.
The new design places a group photo of the "Today" show's large cast across the top of the page (with Carson Daley obviously Photoshopped in) along with three colored bars promoting key content.
Under this, five video clips are promoted in a strip that becomes fixed at the top of the page as users scroll down.
The crux of the page, meanwhile, remains similar to the old look — a three-across grid of square photos and headlines linking to the show's top content of the day.
From a design standpoint, the new homepage is fairly close to the inside page layout, though the homepage feels more open and airy since it's not enclosed in a parent box.
The homepage also includes a simplified header with navigation links that require the user to click to access section choices — a move that mimics app design but could prove confusing to some users, even though the show does offer a helpful bubble pointing out the expandable menu to first time visitors.
Inside pages make more liberal use of shadows than the homepage but also continue to offer users a navigation bar that's visible by default. This inconsistency in navigation could be a further point of confusion among users. Perhaps only switching the navigation on the homepage is a way to test the waters and see how well it plays with visitors?