Q&A: Five questions with Stephen Arnold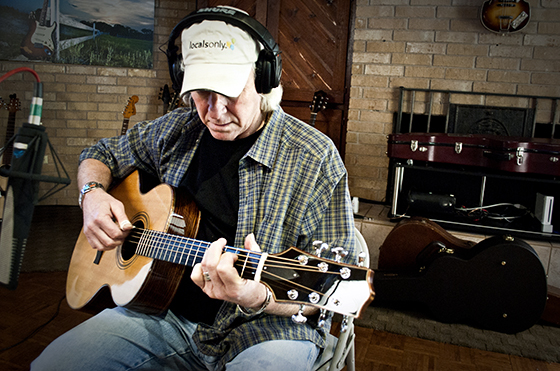 Subscribe to NewscastStudio's newsletter for the latest in broadcast design, technology and engineering delivered to your inbox.
We recently had the chance to speak with Stephen Arnold, founder of Stephen Arnold Music, an iconic composer in the world of television news music. Arnold pioneered the art of sonic branding, or creating a memorable musical hook that viewers can remember.
With the recent mergers and acquisitions among station ownership groups, we wondered how this affects stations marketing, specifically news music.
From a branding perspective, what do you make of all these recent station ownership changes of late?
An essential component to making an emotional connection with viewers today is through music and through its sonic brand. But successfully maintaining a station's distinct sound requires the direct attention of those in charge.
So when a station group is purchased, the music associated with it has to be reassessed. The sound and brand of a station goes far beyond the TV speakers today — it emanates from computers, tablets and smart phones. Their effectiveness isn't just measured in ratings, but also all along the social data graph.
Canvas – One of Stephen Arnold Music's newest news music packages.
So what do station groups need to do following that reassessment?
Generally we see two distinct lines of thinking in this area. Both are intended to save money, but can seriously affect the unique sonic branding that stations work so hard to cultivate prior to the convergence.
One is the "Production Hub" model where a centralized, internal department is assigned to handle all of the creative – on-air graphics, sonic branding, Web/mobile – for all of the stations in the group, often with one basic package being shared by everybody.
While that can make things more efficient and cost-effective, it also threatens the local flavor of each outlet — music that works in Tucson probably won't fly in Philadelphia.
The other prevalent model you see are station groups working with a music provider's market-exclusive catalog.
This gives stations a range of musical styles and instrumentations to choose from that best match their specific market and brand position. There is a growing trend in media markets across the country to "go local" or "hyper local," and local television is exactly that. That's why the music choices a station makes for their news music, image, and station promos are integral to each market and individual station's identity.
It sounds like it can be easy for a corporate accountant to confuse helicopters and teleprompters with the music. Do you think there can be a temptation to look at every expense and say, "This is a commodity" ?
Yes and one way that music providers like us address this situation is to build in a flexible approach to the sonic branding plan right from the start.
Our recommendation to our stations is to, as much as the budget allows, create a variety of different-sounding stylistic arrangements with a variety of mixes and sonic touches. This way, one overall theme can still branch out to have a sound that's more indigenous to each station's specific market.
One thing I would caution against is to not create a sonic brand that's too much of a novelty, to the point that it has a shelf life. Most media consumers can smell a fake a mile away. Authenticity always has to be in the mix.
This is the Place – A complete news music package and hyper local image campaign by Stephen Arnold Music
So in the grand scheme of station marketing, where does sonic branding fit in today?
It's as essential as their logo.
In my experience, stations thrive when they forge a genuine, emotional connection with the viewer. That leads to a more consistent, loyal viewership, which translates into higher ratings and an upward bump on the social media graph.
Even after a billion-dollar acquisition, there's no reason why that precious connection can't be maintained. With the right strategy, a station's sonic branding should continue to resonate. What's better is that it can all be achieved economically – that's a branding success.
To hear more of Stephen Arnold's recent work, visit Stephen Arnold Music or the companies YouTube channel.
The latest in design, production and engineering
Subscribe to NewscastStudio for the latest delivered straight to your inbox.