Sabca Productions creates new look for Univision affiliates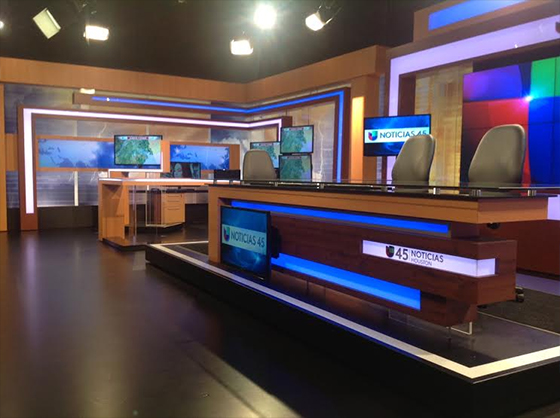 Subscribe to NewscastStudio's newsletter for the latest in broadcast design and engineering delivered to your inbox.
During the past two years, Sabca Productions (and owner Aldo Alvarez) has helped Univision relaunch its local affiliates.
"Aldo is able to customize our sets to each market utilizing the same basic design concepts while adding local flavor, which is inspired by each local team's input. The combination of sets, ideas and innovative lighting techniques, bring to life very small spaces, giving the stations many possibilities," said a client.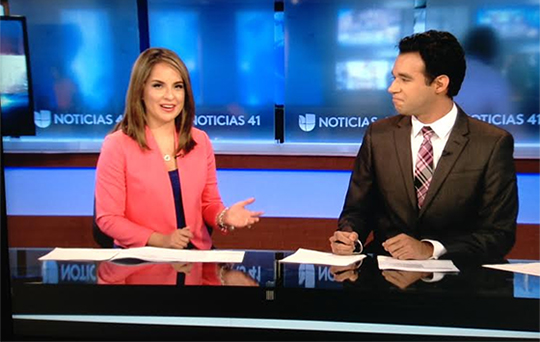 Sabca Productions worked with the local stations within the Univision Television Group to craft unique designs for each market, then oversaw construction, installation and lighting design.
A Unique Look
From New York City to the recent debut in Dallas, Univision worked to create a unique atmosphere for its stations.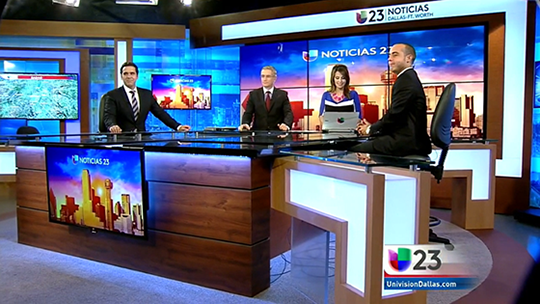 The Univision sets combined rich woods, technology, modern lines and LED lighting to create a central design concept that was repeated across the country, with each market adding its own local flavor.
"The sets colors, a trademark of the Univision Television Group, come alive with clever combinations of lighting color temperatures."
Lighting design and direction was used throughout the sets to create depth of field and a look different from most local stations.
Maximizing Space
"It is amazing how his crew was able to maximize every space available in the studio and create different atmospheres. We've gotten a lot of compliments on the new set from our viewers and that speaks volumes."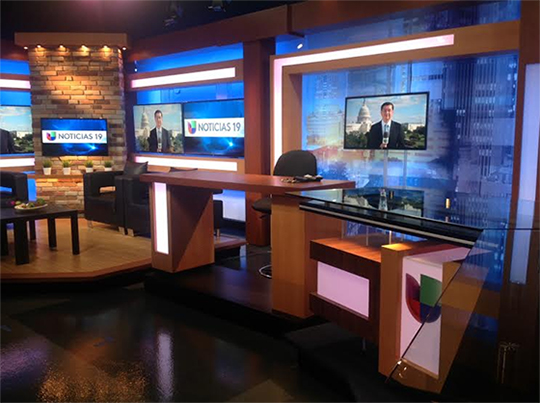 Every part of the studio was used, creating a dynamic environment capable or producing multiple camera angles and looks on-air.
"His designs maximize the ergonomic efficiency of each studio. He creates many set areas and multiple shots without necessitating complicated camera moves."
Discount for the New Year
For 2014-2016, Sabca Productions is offering a 20% discount (off the original budget), all while maintaining the same quality in every project. Aldo can be reached by calling: 786-306-6613.
Sabca Productions is an advertiser of NewscastStudio and contributed content to this article.