Stephen Arnold Music and Gordon Smith Creative partner, launch Sam2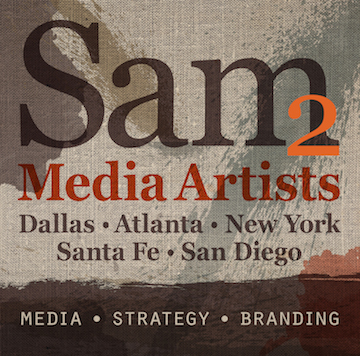 Sam2, a joint venture between Stephen Arnold Music and Gordon Smith Creative, has launched.
Sam2 is a dynamic new one-stop shop that offers clients both media strategy and marketing services, providing broadcasters of all sizes with an innovative approach to marketing strategies, media planning and sonic branding.
An original hybrid agency/sonic branding company, Sam2 is driven by the two companies' decades of experience in serving hundreds of local stations, networks, and cable channels. The result is an extremely efficient resource for broadcast professionals, helping them to engage fresh marketing ideas and strategies across multiple platforms.
With this powerful joint venture, a TV station that had previously tapped Stephen Arnold Music strictly for Sonic Branding can now engage Sam2 for a comprehensive media strategy program. Everything that Gordon Smith Creative excels at — local media analysis, competitive pricing, media planning across radio, TV, cable and digital – is now easily obtainable along with outstanding original music. Sam2 clients also have access to Gordon Smith Creative's proprietary media delivery system that ensures all local or network syndicated content airs exactly as scheduled.
"Sam2 is here to create exciting new opportunities for our clients," said Chad Cook, VP/Creative Director of Stephen Arnold Music. "By putting two of the industry's best together in one agency, we're providing broadcasters with a deep resource that they've never had before."
"Whether they're at a local station or national network, decision makers are always looking for increased efficiencies, without compromising on creativity," adds Gordon Smith. "All of the media experts at Sam2 have a passion for customized brand ideas. Now we've gathered our specialties together under one roof, for unparalleled originality and convenience."
Gordon Smith Creative has worked with hundreds of stations, devising winning media strategies that encompass broadcast, cable, online, mobile, out-of-home and beyond. Stephen Arnold Music's portfolio of original music and sonic branding likewise features an elite list of the world's leading television networks, including ABC News, CBS, ESPN, CNN, Fox News, NBC, The Golf Channel, CCTV China, Weather Channel and many others, as well as numerous station groups like Nexstar, Media General and Scripps to name a few.
The joining of two firms recognized for their media mastery, Sam2 brings a wealth of combined experience to broadcasters in an innovative new company that can be trusted to hit the ground running. "Campaigns that need it all can come to us," Stephen Arnold says. "Sam2 will get it done – and we'll make it fun."