Suite Spot produces 160 hours of online content for Westminster Kennel Club Dog Show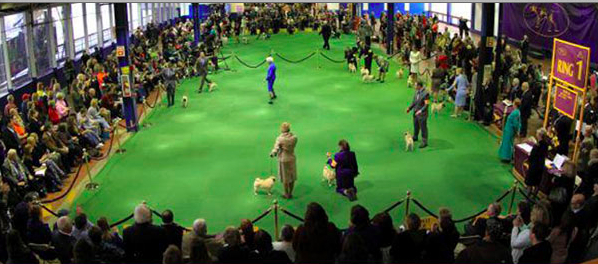 Subscribe to NewscastStudio for the latest news, project case studies and product announcements in broadcast technology, creative design and engineering delivered to your inbox.
Call it the "Best In Show online." Looking to showcase 187 breeds competing in 12 different rings at the recent 138th Westminster Kennel Club Dog Show (WKCDS), producers at USA Network and NBC turned to the full-service video production company Suite Spot to create a seamless 13-channel live streaming online broadcast experience for America's second-oldest sporting event.
For the third consecutive year, WKCDS selected Suite Spot and the streaming video platform Ustream to help broadcast this elite happening. Led by Co-Founders Adam Drescher and Eli Heitin, Suite Spot applied its deep experience in broadcast-quality video, logistics and streaming to the storied event, providing a 40-person crew that produced over 160 hours of error-free live (archived online) broadcast for an extremely discerning audience. Viewing online and on mobile devices via a dedicated app, dog lovers worldwide received instant access to the breaking WKCDS action, held in New York City on February 10-11.
"The historical nature of the show brings an air of gravity – they've done this for 138 years, and the video needs to clearly show this competition is 100 percent fair and thorough," Heitin says. "The production and streaming needs for an event like this are very complex, and there is no room for error."
The viewer experience of the WKCDS was seamless. Anyone could simply select one of 13 channels to see action at any of the 12 rings, or the master channel switching continuously to breaking segments.
To make it happen, Suite Spot connected each of the 13 camera operators to their own dedicated, individually-manned streaming encoder at the mobile broadcast encoding station they set up onsite. Suite Spot also integrated custom graphics, encoded live to each channel, in keeping with viewer expectations for a championship sporting event. From there the HD video was broadcast on Ustream's platform for live viewing and archived on USA Network's site for on-demand distribution.
"That one-to-one communication is essential for successful multi-camera streaming at a live event," notes Drescher. "All of our equipment is stress-tested, so we know that all hardware and software will perform as expected and last as long as it should. We also design for full redundancy so that all channels continue non-stop no matter what."
High stakes to be sure – a top dog at the intensive preliminary rounds held at New York's Pier 92/94 could go on to be crowned Best In Show. That raised the intensity on not just the 3,200 competing canines, their handlers and hardcore fans, but also with Suite Spot's crew who were all sharing access to the limited show floor. Past experience working with elite brands such as Jet Blue, CBS, ESPN, Pepsi and American Express helped Suite Spot handle the project's many challenges.
"The setting was very crowded with everyone on top of each other," Heitin says, "but the client's expectation is simply that it be flawless. For the Westminster Kennel Club Dog Show that means every breed is fully represented, and nothing is ever late."
Heitin adds, "We're extremely proud of the fact that, despite this event's long history, Suite Spot stands as the first company to broadcast the majority of the show – so much of it had simply never been seen by people who weren't there live and in person. It's exhilarating for us to execute complex projects like this. At the same time, our clients don't even want to know how we did it – they just want to know that their production was done right."
Subscribe to NewscastStudio for the latest news, project case studies and product announcements in broadcast technology, creative design and engineering delivered to your inbox.