NAB: Inside Perspective – The rush begins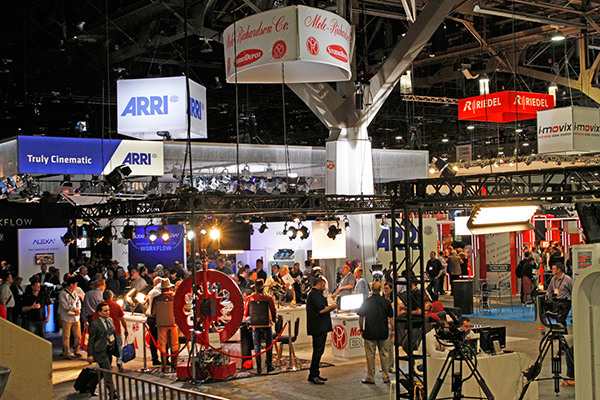 Subscribe to NewscastStudio's newsletter for the latest in broadcast design and engineering delivered to your inbox.
NewscastStudio is following Devlin Design Group and Brightline this year at NAB, exploring their convention experience. Stay tuned for daily updates from the two companies during the show.
It looks a little like the Oklahoma land rush. The doors are open and thousands upon thousands who came to Las Vegas to see the latest broadcast goodies descend upon the convention floor.
This space had been transformed in just hours.
Late Sunday afternoon, the convention floor was still bare concrete in many places, with packing crates strewn everywhere.
Now those concrete floors are under hundreds of thousands of square feet of carpeting.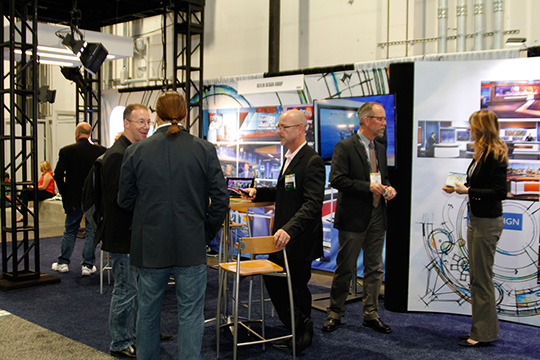 The folks at the Devlin Design Group/Brightline booth are already busy talking to convention goers.
Some stop by Booth C3951 to ask about Dan Devlin's latest designs…such as the interactive storytelling arena DDG just built for KSAZ in Phoenix.
Others may be current or past clients who just want to stop in and say hello.
One of the attendees doing just that was chatting with Sam Cercone of Brightline about a job they did together years ago in South Bend. He's since moved on to a different station, but was now looking for help with a current lighting challenge.
Other people stop by the booth to drop off their business cards for the chance to win one of two iPad Minis.
Despite the buzz on the convention floor and in the booths, the real drama goes on in the suites.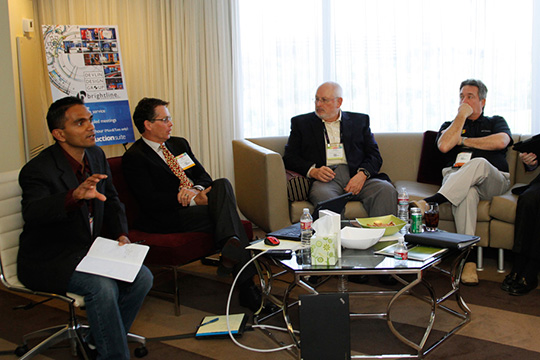 Meetings have been wall-to-wall in Suite 830 in The Renaissance Hotel, the Brightline/Devlin Design Group suite.
The meetings are as varied as the people who attend them.
There are group production teams that include a general manager, news director, chief engineer and corporate officer.
And there are local station managers who meet with the DDG/Brightline teams to discuss their upcoming set.
I attended one of those meetings in the DDG/Brightline suite and witnessed firsthand how the process works.
The station is shown the latest revisions to their upcoming set. A discussion follows about proposed changes. Can we do this…how about that?
The pros of the DDG/Brightline team usually say more than yes…more like, "we can do all that…AND we can do this as well." They understand that customer focus is key…and that every handcrafted project is different than the one that preceded it.
That's usually followed by…."That is too cool!"
Speaking of cool, I'm going back to Suite 830 this evening for the Brightline/DDG Happy Hour from 5pm-6:30pm. It's open to all NAB attendees and is always a fun opportunity to catch up with old friends and the crazy geniuses at Brightline and Devlin Design Group.
Also, if you over celebrate tonight in Las Vegas and find yourself suffering from a bit of a "morale crisis" the next morning, stop by the Devlin Design Group/Brightline Suite between 8am and 9:30am for free Starbucks coffee. Remember, they're in Suite 830 at The Renaissance, which is right next to the convention center.
Devlin Design Group contributed to the content of this story.