'Tagesschau' debuts new minimal studio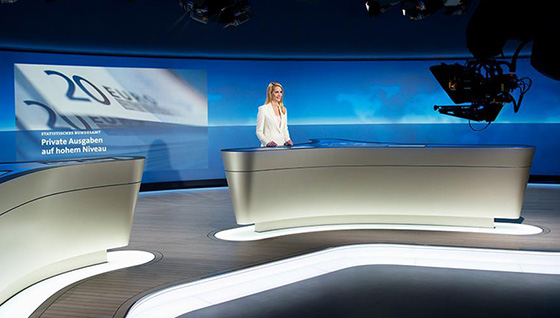 German newscast "Tagesschau" debuted a sleek new set and graphics package this week.
Produced by Norddeutscher Rundfunk (NDR) for public broadcaster ARD, the new project represents a significant upgrade of both facilities and presentation.
View a full gallery of the new set design and graphics package
The 23.8 million Euro project was a complete overhaul for "Tagesschau," and is expected to last at least 10 years on air. The project included new studio equipment, set construction, set design, training and additional maintenance over the life of the studio.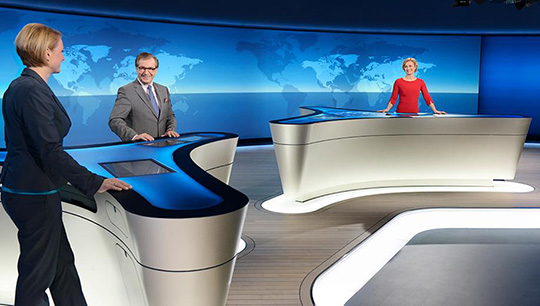 The new set is built around a large media wall, where "difficult issues can be illustrated vividly in the form of animated graphics." Large importance was placed on imagery on the set because "subjects can be more expressive, authentic and emotional illustrated, which enhances the intelligibility."
Two minimal standing desks anchor the design with sleek curved lines. Backlit elements are found under the desk and riser, making the desks appear to float on light.
Many European broadcasters are using virtual sets or moving towards virtual, but not "Tagesschau."
"News lives on reliability, safety and credibility. This idea follows the basic idea of the new studio. All the viewer sees on the screen should be real available in the studio," wrote the show in an FAQ (translated from German). "The moderators should radiate security and not acting in a 'vacuum.' The 'touchable studio' creates confidence."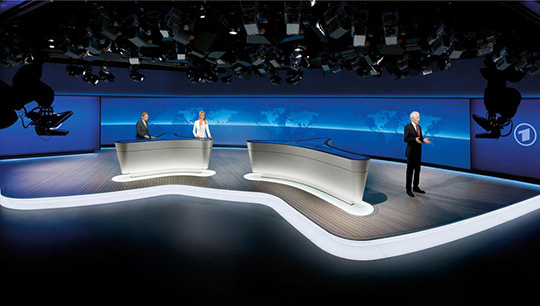 The overall design stands out from the crowd, especially when compared to set design in North America. The set is simple but effective with a graphics package to match. Every shot appears to be thoughtfully blocked and rehearsed with German precision.
The set looks great on air, but also stands on its own outside the news world.
A video about the upgrade has been posted (in German).