SEC Network unveils first look at studio design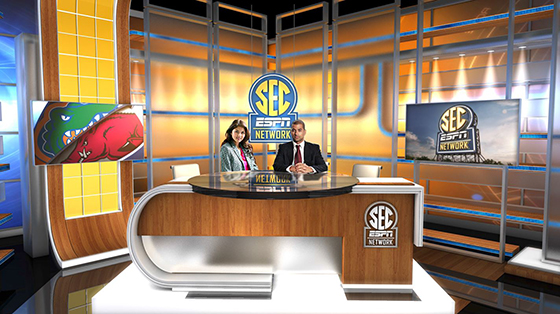 The new home of the Southeastern Conference, the SEC Network, unveiled two renderings of its studios.
The studios were designed by John Casey Production Design and will be complete in July, for the networks August 14 launch.
"It was important that the set had its own distinct look and feel, while still maintaining the quality and technology that viewers have come to expect from an ESPN network," said ESPN's Stephanie Druley, vice president production, college networks. "The set is designed to give us three unique environments. It will have touch screen technology and multiple monitors and lighting which can be changed to colors reflective of the 14 different schools. It will be a great new home for the coverage of all of the SEC member institutions and its' 21 sports."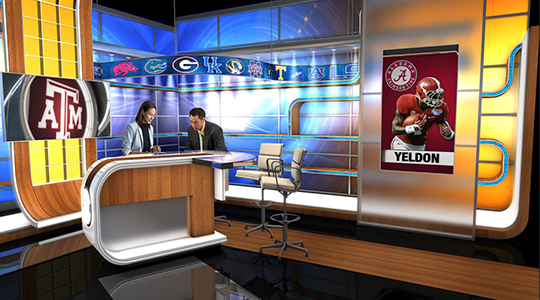 The sets are located in ESPN's Charlotte complex in Studio B. The studio is one of two the network plans to utilize for its coverage of the SEC. Participating schools will also have flashcam positions for quick analysis and pre/post-game reactions.
"The digital scroll you see is one example of technology providing a cohesive design for a tangible challenge – our desire to have a visual representation of every SEC school at any given time during a telecast" said Robert Toms, ESPN vice president, product enhancements and interactive television. "We can seamlessly showcase 14 unique brands in a unified fashion, and, should a logo ever need to be updated, we won't have to tear down the set to make a change."