Time Warner splits financial sites, redesigns money section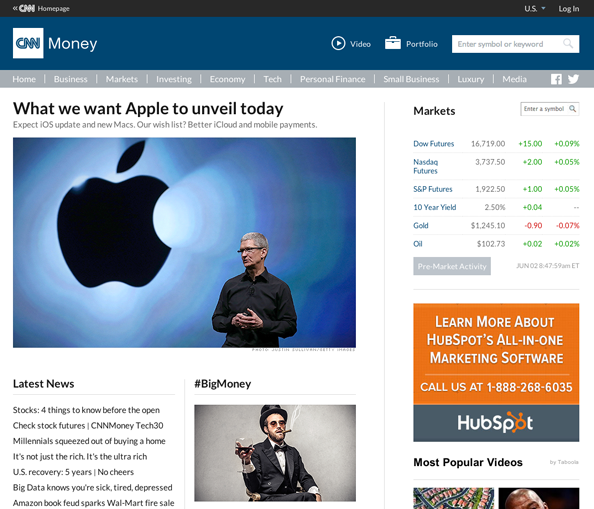 Time Warner's CNNMoney.com, the shared online home for its financial related properties, including Fortune and Money magazines, has gotten a divorce and, along with that, a new look.
The site now is branded solely as "CNN Money" and is hosted at money.cnn.com — and the print magazine websites have been shuffled off to their own homes online.
The redesigned CNN Money site features a dark blue header and a simple clean design that relies on typography and photography. Story pages feature prominent social sharing buttons but, for the most part, continue the clean look of the homepage.
The CNN logo is placed in a square box in the upper left in white and blue — a similar, albeit red-less, treatment seen on CNN.com's long-delayed website redesign.
Meanwhile, entering "fortune.com" takes visitors to a new, standalone site for Fortune Magazine, while the domain money.com now redirects to a Money-branded site on the Time magazine website.
It seems a bit odd that, given the Time Warner owns a property that just happens to be called Money, that it would continue to call CNN.com's section the same name — why not rename it CNN Financial or CNN Business?
The split of the online properties seems to be aimed at making CNN's financial reporting more closely associated with the network's name (and perhaps avoiding connections to dusty print magazines) — something that seems to be in line with CNN head Jeff Zucker's desires to beef up the CNN brand.
This also represents the end of another effort in synergy between Time Warner media properties — remember CNNfn, CNNSI and CNN NewsStand's joint efforts with Fortune, Entertainment Weekly and Time?
It will also be interesting to see if the new look for CNN Money becomes incorporated into the new CNN.com design — whenever that comes to light.
The latest in design, production and engineering
Subscribe to NewscastStudio for the latest delivered straight to your inbox.