CNN.com internal beta offline, new version to come soon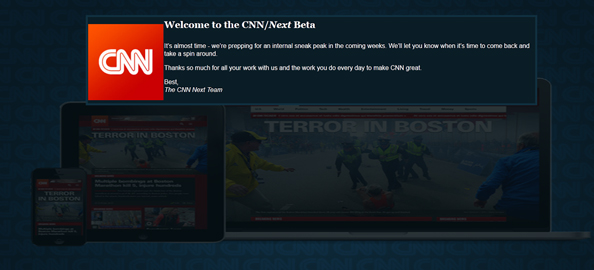 The CNN beta site, which was available only on computers from within CNN offices, has been taken offline and internal visitors are now greeted with a page saying a new beta is being prepped and will be available in the "coming weeks," as shown above in a screenshot obtained by NewscastStudio.
The site, which was supposed to launch in November, was delayed indefinitely. The network made the beta available internally last year until switching it to its current state — though NewscastStudio's sources weren't clear on when that change was made.
The site also features images, faded into the background, of what may be the new beta version, which has key differences in the original design released by CNN in August, as shown below.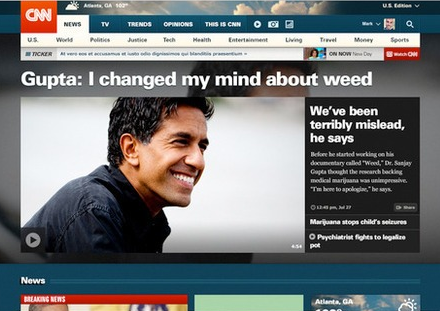 Assuming the images reflect actual design changes, CNN appears to be making large images even more prominent, as well as using more prominent typography in the lead story area. The image and headline also uses a layout that combines them into a more cohesive unit.
The design keeps the CNN logo in a square box in the upper left, while the navigation bar appears to use more red rather than the deep blue shown in the original mockups. Like the original design, the new look is shown as fully responsive, with layouts optimized for desktop, tablet and smartphone use.
It's also interesting to note the site and team behind it are now referred to as "CNN Next" in the temporary splash page — though it's not clear if this is an internal name only or reflects a public branding change for CNN's Web properties. When it first launched, CNN.com was referred to as "CNN Interative" and included various special logo treatments: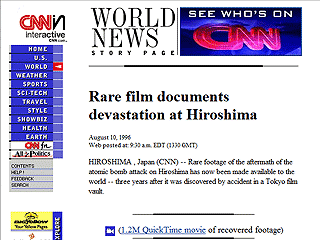 The latest in design, production and engineering
Subscribe to NewscastStudio for the latest delivered straight to your inbox.