'Thats Not Breaking News.com' showcases ridiculous alerts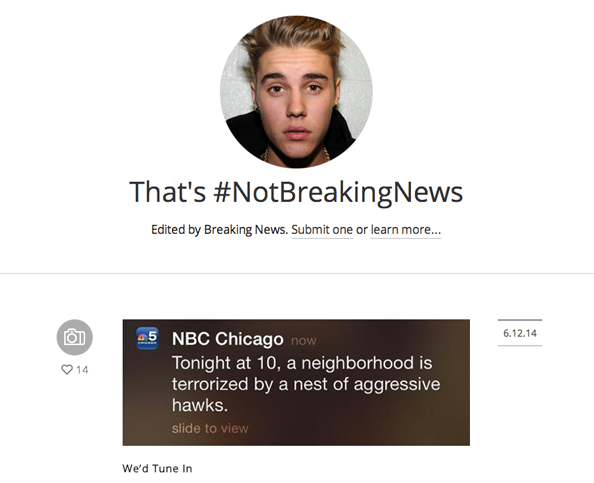 Although it's apparently been around since last October, we just noticed a blog that's apparently run by Breaking News, the NBC News Digital Group-owned site and app, entitled ThatsNotBreakingNews.com.
The site, which (rather appropriately) features a mug shot of Justin Bieber at the top of each page, includes a collection of screen captures of supposed "breaking news."
Included are gems such as an Associated Press alert reading "Austrian bearded drag queen Conchita Wurst wins Eurovision song contest" and WMAQ-TV's "Tonight at 10, a neighborhood is terrorized by a nest of aggressive hawks." It appears the site may be getting updated more frequently now.
The site's about page reads "At Breaking News, we believe you deserve to get news alerts that uniquely matter to you. No hype, just the breaking news that's important to you."
It's important to note that it's not clear if the authenticity of the captures is verified or if the site is, in fact, run by Breaking News (but it's still entertaining either way).