Fox Atlanta prepares to launch redefining studio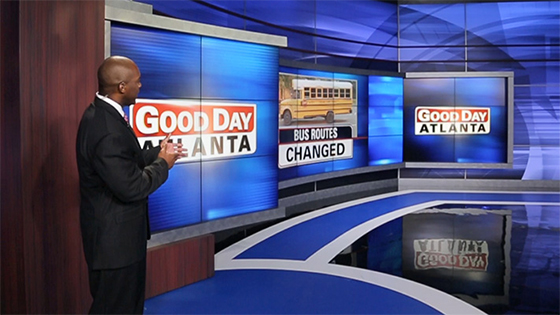 WAGA-TV, Fox 5 Atlanta, is preparing to launch a new studio Monday, designed by Devlin Design Group.
DDG says the "set re-defines and changes scenic storytelling, forever!"
"Team DDG congratulates WAGA-TV and Fox Television for their fearless embrace of groundbreaking innovation in Atlanta," said Dan Devlin of Devlin Design Group. "We always enjoy working directly with our clients to produce designs that dazzle and inspire viewers. Our collaboration with Fox 5 Atlanta produced a design unique not only to Atlanta, but to the industry as well. Team DDG takes pride in bringing our Creativity, Knowledge and Innovation to life with every design we create."
The creative team at FOX 5 Atlanta worked directly with the designers at Team DDG to create the set.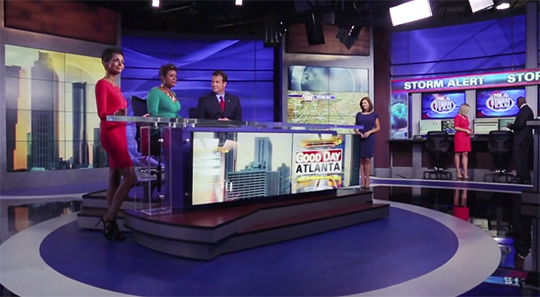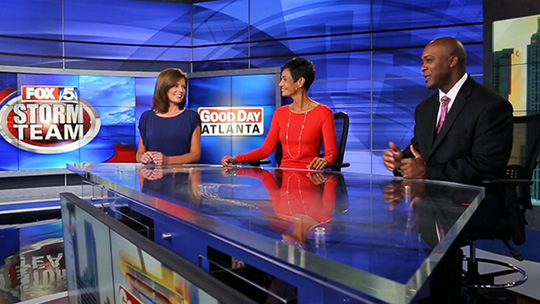 The goal: create a scenic environment unique to Atlanta. The result, according to DDG of this collaboration was a "design so innovative, so different, that it is the first of its kind in scenic storytelling—anywhere."
Fox 5 Atlanta produces more hours of news programming than any other local news operation in Atlanta.
The versatility of this stunning high definition set is defined by the large, color-changing backlit video walls that allows F0x 5 Atlanta to change the mood and style of each of its many newscasts.
The studio includes a social media area, video wall, weather presentation area, two additional video walls and an interview couch.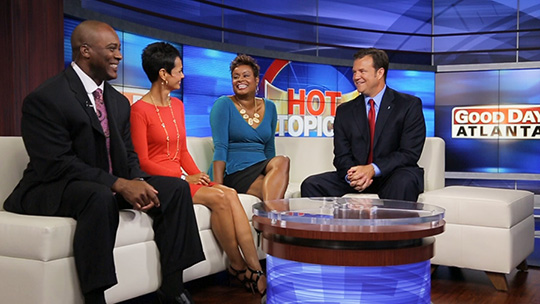 What sets this design apart from all others is the pivoting storytelling wall that presents itself apart from the rest of the storytelling video wall.
Here is how it works: A portion of the LED video wall positions itself at a ninety degree angle from the rest of the video wall to allow the reporter or talent to set up their story, much like the opening of a book cover.
After the initial story setup, the intro section of the video wall pivots mechanically and then blends back into the main video wall and becomes part of the continuing story. The storyteller now has the option to share their story while walking along the larger storytelling wall.
The video wall's ability to change content and background allows the storyteller to stop and use the specific content changes in the graphics wall to visually punctuate the story.
"This innovative design element truly changes all forms of scenic storytelling moving forward," said a DDG release.
Video of the new set
Devlin Design Group is an advertiser on NewscastStudio and contributed to the content of this post.