NBCNews.com sees dip in visitors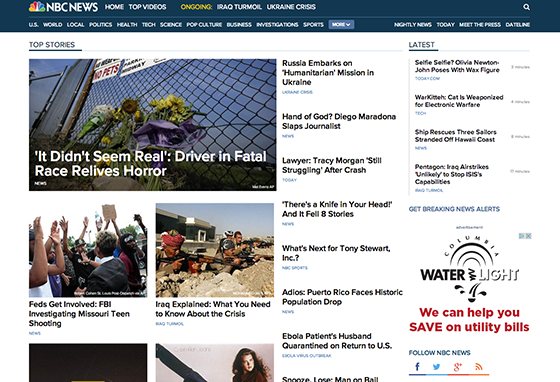 Since launching a widely panned redesign and losing its referral traffic from MSN, NBCNews.com has seen a 22 percent drop off of traffic since the beginning of the year.
According to TVNewser, the site has lost over 12 million unique visitors in the timespan between January 2014, when the redesign was launched, and the end of July.
The site was the preferred news provider for MSN, a deal which ended in June.
When looking at the Comscore data from June, the last full month of the MSN referrals, to July, traffic was down 19 percent.
NBC News says it anticipated the drop off in traffic and notably tries to push most of the blame on the traffic loss on the loss of MSN referrals and not the redesign (which was redesigned again this month).
NBCNews.com was relaunched earlier this year as part of the network's splitting of NBC News and MSNBC's online homes.
The network points out, in its statement to TVNewser, that its goals are to build quality, engaged traffic and the MSN referral traffic is apparently not part of that strategy.
Still, there's no denying that losing 12 million visitors, no matter what their profile, is a big dent.
We've reached out to NBC News for comment but have not heard back.