Q&A: SAM2 creates Black History Month documentary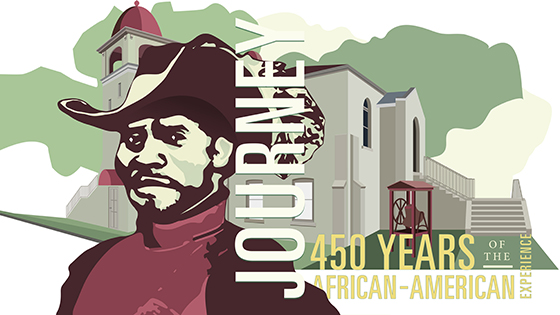 Subscribe to NewscastStudio for the latest news, project case studies and product announcements in broadcast technology, creative design and engineering delivered to your inbox.
We recently spoke with Sam2's creative team of Gordon Smith, Michael Carr and Chad Cook about their foray into content creation with the Black History Month documentary "The Journey: 450 Years Of The African-American Experience." 
"Journey" reveals the never-before-told true story about the role Africans played in the founding of St. Augustine, Florida, the oldest city in the United States. Interviews with experts and vivid imagery come together in "Journey" to explain how the first African Americans reached the new world long before the founding of Jamestown – not only as slaves, but also as free men.
Local TV stations nationwide can air the 30-minute documentary special, produced by Mummycat Productions LLC and syndicated by SAM2, a division of Stephen Arnold Music.
How did this all come about?
Michael: Mummy Cat Productions was commissioned by the City of St. Augustine to produce a documentary highlighting the role Africans played in the creation of the city 450 years ago.
We interviewed experts and animated old maps to create a storytelling technique that engaged the viewers' interest and imagination. Our story highlights a continuous thread of black history starting 450 years ago culminating in a violent crescendo that pushed a then stalled 1964 Civil Rights bill into law.
The viewers who watched it were often moved to tears. Soon after we completed the film, Gordon and I began our partnership with Stephen Arnold Music, forming Sam2 to serve as a full-service branding agency to stand along side their music services, and we started talking about how we might be able to bring the film to a wider audience.
Gordon: When we discussed the special with stations the interest it garnered was astounding. It was then we realized we might have the proverbial tiger-by-the-tail here.
Was content development always part of the plan for SAM2?
Chad: Our vision from the start was to offer original content and license it in various formats and lengths depending on station needs. "The Journey – 450 Years of the African-American Experience" turned out to be a perfect piece for us to test this concept of moving beyond typical branding and promotional content and into developing original content.
This is not merely about promoting a stations' news programming or their on-air identity, but a piece of entertainment that can stand on its own.
So specifically how does it work? What are the stations getting?
Gordon: On a market exclusive basis, stations can take the full 30 minute doc and put in on their air or website or both. We're also are providing five, two-minute segments for use in their newscasts or as a stand-alone 'Black History' moments.
There is also an additional element involving stations and the sponsors providing the film to local school systems for use in the classrooms. We have developed an educational companion teaching aid for teachers to use. The stations that have cleared the show have embraced this unique community service opportunity.
What's been the reaction so far?
Gordon: We've already placed in more than 64 markets since we launched the syndication effort 3 weeks ago.
Chad: This really isn't your typical pre-package station branding or promotional product. The big difference is the many ways stations can make money with it and how it fills a real need for dynamic content around Black History Month.
You don't see a lot of branding agencies develop this type of original content. Is this something that you plan to do more of?
Gordon: It is certainly something we plan to do more of it, but whether it becomes a larger trend is difficult to say because company's have to be willing to spend the time to produce something that has value to stations, For it to work for stations it has to both tell a unique story that can be packaged in a variety of ways, and generate ROI on their investment, as well serve the community good.
We were able to do the "Journey" because of the talent and resources we have at Sam2.
Chad: Exactly. This is a business model that makes sense for us because we can do it all in-house. Not only developing ideas and researching the stories, but also the production, the post, the music, and because of our business relationships, we can take it to market. People know that when Sam2 comes to them we're coming with a quality product.
To learn more about "Journey," visit the SAM2 website.
Subscribe to NewscastStudio for the latest news, project case studies and product announcements in broadcast technology, creative design and engineering delivered to your inbox.