CNN split-screens two anchors who appear to be right next to each other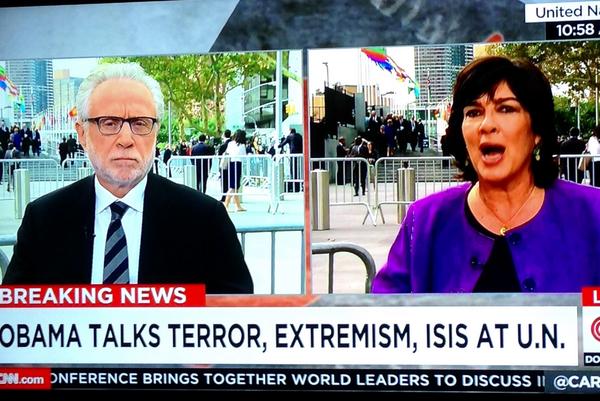 One sharp eyed viewer noticed CNN using a split screen setup during an interview anchor Wolf Blitzer conducted with correspondent Christiane Amanpour even though the two appeared to be located very close to each other.
Sam Colt, a reporter for Business Insider, noted that, during its coverage of President Obama's U.N. speech, tweeted a photo of the segment featuring the two CNNers.
[field name=iframe]
We also noticed that even though the cameras appear to be very close to each other, if not right next to each other as Colt speculates, the white balance between the two are wildly different.
The setup reminds us of a May 2013 segment where CNN anchor Asleigh Banfield held a split-screen interview with HLN host Nancy Grace during its coverage of the Cleveland kidnapping victims. During this segment, Banfield and Grace were seated in the same parking lot, as noted by the Atlantic Wire.
The pair's proximity became painfully obviously when vehicles could be seen driving off frame in one shot and then appearing in the other or, in some cases, appearing behind both at the same time.
The Atlantic Wire even went to the lengths to create a map of the parking lot showing its "best guess" as to where Banfield and Grace were located.
Of course, it's not uncommon for large networks (or, in the case of CNN and HLN, two sister networks) to have separate live shot locations at the same venue.
There are also technical reasons that could explain why a network might opt to split-screen two reporters located in close proximity to each other (or even right next to each other) — especially in situations that involve sister networks that might need to do separate live shots as well as combined ones.
The latest in design, production and engineering
Subscribe to NewscastStudio for the latest delivered straight to your inbox.