Q&A: Inside the technology of ESPN's Studio W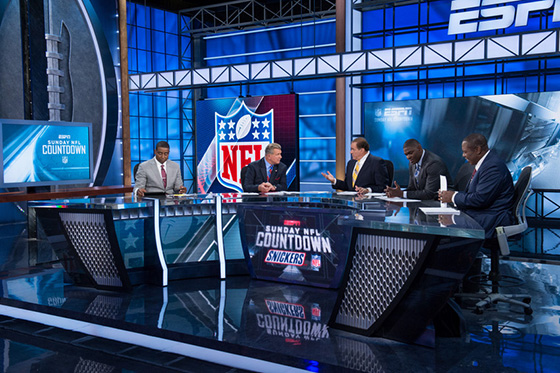 Subscribe to NewscastStudio for the latest news, project case studies and product announcements in broadcast technology, creative design and engineering delivered to your inbox.
We recently had a chance to speak with Jim Landy of AV Design Services about the technological integration on ESPN's new studio W, home of the networks NFL programming. Working on site for 10 weeks, AV Design Services make sure all the pieces connected to create its unique appearance on air.
Landy is no stranger to large studio integrations, working on past projects for ESPN including the new "SportsCenter" studio.
How do you approach a project the size of ESPN's Studio W?
Coordination… Coordination… Coordination.
It is imperative that all trades team together along with the ESPN engineering & technical teams. Scheduling is very important, although in a studio of this size it wasn't as much a concern as it is when the studio space is smaller and trades tend to be working on top of one another.
AV technology needs to be ordered in a timely manner and delivered when promised. Properly vetting all of the technology signal paths and signal generation devices is of paramount importance, plenty of time to work through any issues while we were waiting for the LED displays to be delivered to site.
Our close working relationship with Jack Morton and Hudson Scenic (Hudson supplied all of the motor motion systems for all of the tracking AV tech on set) was beneficial to this successful launch. Weekly meetings were very important.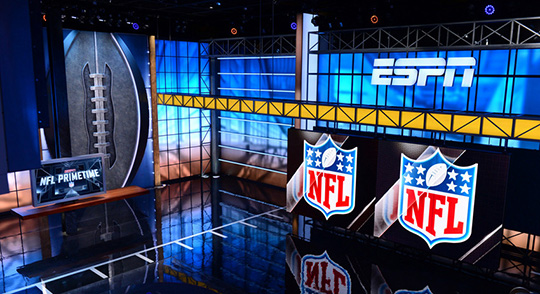 What were the core technology needs?
ESPN wanted to make certain that this studio was 4K ready.
All of the cabling needed to be 4K capable now so we could future proof this build, plus with all of the moving display technology on this set it was critical that we provided state of the art flexible CAT6, HDSDI and power cables with ratings that exceeded testing for 100,000+ bends.
We found the proper cable through Belden, to my knowledge this is the first time this new cable has been deployed on this type of installation. It's rated for 4K HD signal distribution and very flexible, making it the perfect choice for this project.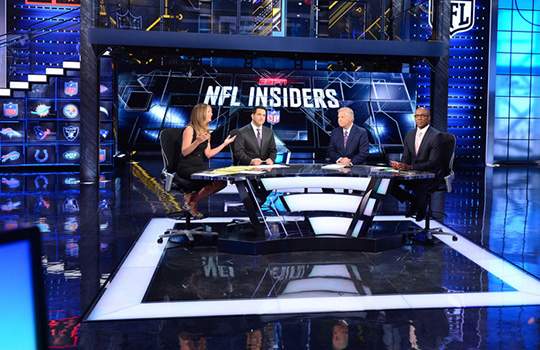 What was the most unique technology element on the set?
Studio W is primarily comprised of SCT LED display systems (primarily 3.9mm and some 2.5mm coupled with the desk display elements that are Nanolumens 4mm with diffusion, Tracking LCD/LED displays and large touch enabled PPI/Microsoft 82"/55" displays.
I personally like the Countdown area of the set with the 4 tracking LED walls that track independently, or together and the countdown flying sign that tracks up and down in front of the anchor desk
What most can't see is the five 55" flat panel displays of the back of that sign…provided so the talent can watch the NFL games while on set, used primarily for updates and lets the talent keep informed during the games.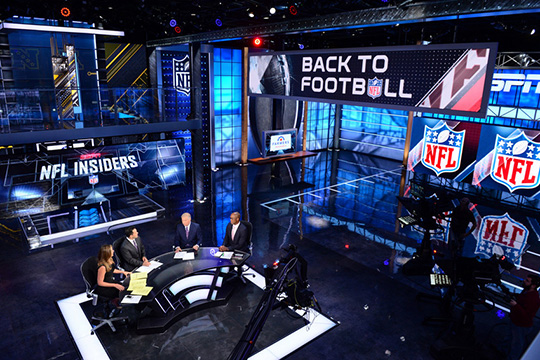 How did the moving pieces (of the set design) change your work?
Special flexible cabling (signal, power & data) and coordination with Hudson Scenic concerning cable paths above the grid to establish a reliable system that will not require a lot of maintenance
How many monitors are included on the set?
18 – 46" LCD
32 – 32" monitors
2 – 82" touch
1 – 55" touch
2 – 80" LCD
Multiple LED displays static and tracking
What is the most rewarding part of the project?
For a project of this size we are most proud of the fact that we brought this project in on time and on budget. Everything went very smoothly and I attribute that to the team.
All vendors on site are experienced professionals and it always proves itself to be extremely important when you have the chance to reflect back after a successful build.
Any interesting facts/figures from the project?
Working closely with John Gluszak at ESPN, we established a budget early in the process, based on the experience of the ESPN team and the AVDS team we were able to stick to the proposed budget including multiple changes and additions we were asked to provide through the installation process.
All in all, our portion of this project went very smoothly.
Subscribe to NewscastStudio for the latest news, project case studies and product announcements in broadcast technology, creative design and engineering delivered to your inbox.