Alaska NBC broadcasts in HD from new studio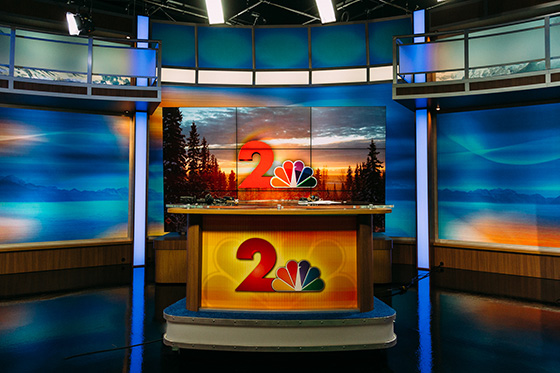 KTUU-TV launched in high definition Sunday from its new Anchorage facility, the Northern Lights Media Center.
"Every local market is unique. However, KTUU-TV's reach spans nearly the entire the state of Alaska, about one-fifth the size of the continental U.S.," said Tracy Sabo, KTTU-TV news director. "This reach is truly unique in any local market, and KTUU-TV's loyal audience expects the very best in quality from the station they've chosen as Alaska's News Source."
Also on NewscastStudio
FX Design Group and Giant Octopus worked with the station on the project, creating a complete makeover for the HD transition.
The set design harkens back to FX's style from a few years ago, using wood and printed graphics throughout with minimal modern touches. The design is anchored by a 3×3 monitor array behind the anchor desk, with a faux balcony above.
In many ways, the overall look and feel and layout of the set echoes the design at KWTV-TV in Oklahoma City, which was installed in 2006, though this set sheds the multi-faceted backlit columns and rear projection screens.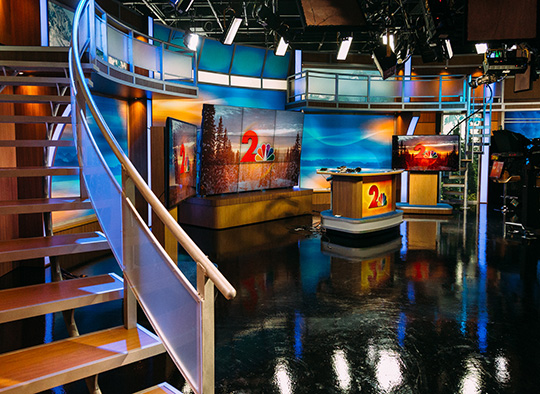 Two stairways are included on the set. A standup position with a large monitor is located to the left of the anchor desk, with a working weather center on the right.
FX notes in a press release that "the sweeping staircase leading to the balcony gives the feeling of climbing a mountain. Despite the size of the set, viewers will be struck by its warmth and intimate appeal."
The overall set design is very conservative, reflecting the viewership of Alaska. The set skips out on large amounts of backlit panels in favor of a traditional look.
FX's graphics division, Giant Octopus, created the stations new HD motion graphics.
"During the initial design call we discussed the scenic beauty of Alaska juxtaposed with areas of color washes and ribbons of light reminiscent of the Northern Lights," said Erin Lartonoix, FX graphics design manager.
The package combines ribbons of light, a large animated station logo and footage of Alaska in the open. Overall, the package is similar to Giant Octopus's syndicated package from WISH-TV.
"The opens use a stunning shot of the mountains behind Anchorage," said Al Lagor, managing director of motion design at FX. "There are streaks of light, accented by light swishes that also imitates the Northern Lights. They will be able to add beauty shots of other Alaskan images per daypart if they choose."