Kansas City NBC debuts new home

Kansas City's 41 Action News, KSHB-TV, debuted a dynamic new studio Monday from designer Park Place Studio.
Similar to Scripps sister stations at WCPO-TV and KGTV-TV, the set includes backlit panels throughout with a good dose of technology, 45 monitors in total.
Also on NewscastStudio
A 3×3 monitor array is located camera center, with graphic panels representing Kansas City on the left and right. Landmarks including the Kauffman Center for the Performing Arts and the Convention Center provide local flare.
A large weather center is located to the left and includes a standing desk. A traffic pod is also present next to the weather center.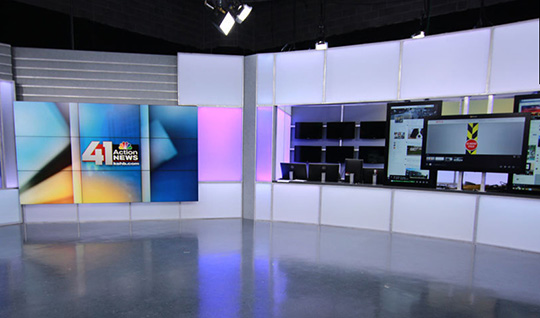 To the right of the anchor desk is a standup area with a monitor wall and the Digital Media Center, where anchors will "provide viewers active updates by using multiple touchscreens and will have access to a large interactive digital center dedicated to the collection and presentation of social media news content."
A unique portion of the set is the curved metal header, located above the backlit panels in the weather area. Like it's sister sets, KSHB-TV's can change color based on news and story, giving it endless options for broadcasts.