CBSN launches with tidy graphics, messy set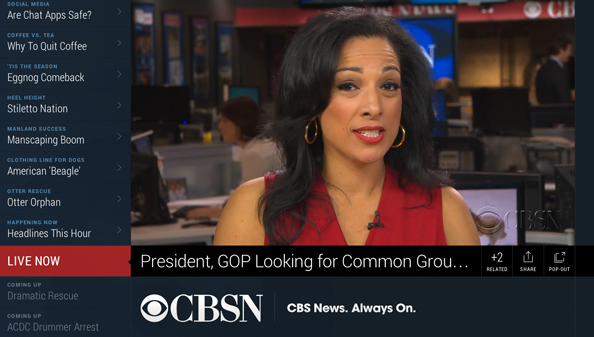 CBS News has launched CBSN, the network's foray into the 24-hour news business with a clean graphics package and cluttered newsroom set.
The channel, which is available via streaming TVs, the CBS News website and apps, is produced as a collaboration between CBS News and CBS News Digital.
For a logo, CBS opted to simply add an "N" to its logotype, which is set in the elegant typeface Bodini. The entire name appears in the serif face, with the CBS eye placed to the left, just as in most CBS News logo configurations. The logo appears as "glassed" bug in the lower right of the screen.
For graphics, CBSN uses simple boxes with mostly solid colors and some subtle beveled lines, clear designed to be highly legible and look relatively good on a wide variety device sizes and bandwidth speeds. For full screen graphics, a blue background with rotating 3D CBS eye is used.
The color palette for the graphics is drawn from the current "CBS Evening News" package but dispenses with much of the texture. Lower thirds appear in a lighter, steel-gray and blueish tone while a darker blue and deep red are used as accents. The typography in lower thirds is a narrow Helvetica-like font, while full screen graphics used a Proxima-Gotham-like face.
The network originates its coverage from a New York City newsroom.
Anchors stand behind a high desk in front of a rather cluttered backdrop of workstations with many computer monitor desktop wallpaper set to CBS News logos.
Far back is a red thin red header with the CBS News logotype repeated on it, a look that ties into some of the printed backlit graphics found on the latest iteration of the "CBS Evening News" set.
The rear wall also includes an uplit wall with splashes of warm gold, which mirrors the wood tones in the "Evening News" studio.
Off to the right, there is a vertical flat screen similar to the ones used on "CBS This Morning" while high above, in one corner of the newsroom, a world map with a design borrowed from the "Evening News" graphics package and Walter Cronkite-era background found on both that set and "This Morning."