'News Night' updates set on 'The Newsroom'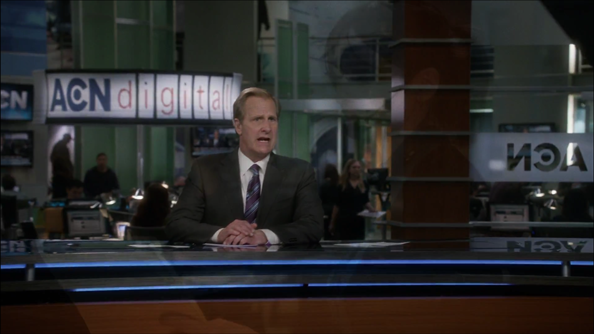 One of NewscastStudio's most common — and popular — types of posts are our reports on when a TV station or network makes changes or updates to a set. This post is true to that theme in many ways, except it's a fictional network and fictional set that was updated.
HBO's "The Newsroom," which is in its third and final season on HBO, saw some updates to its set within a set when it debuted earlier in November.
Most notably is the addition of a freestanding stretched fabric ring in the middle of the newsroom with the "ACN Digital" branding on it that also appears prominently in anchor desk shots.
The ring, and the workspace beneath it, appear to be the home based for Neal Sampat, the newsroom staffer who runs anchor Will McAvoy's blog — and is the resident conspiracy theorist and hacker, an element that will play a big role in this season's storylines.
In addition to the ring, the workstations under it have added branded, uplit glass panels with the "ACN Digital" branding as well ("ACN" is short for "Atlantis Cable News," the channel where "The Newsroom" takes place).
The addition to the original set is an interesting move since both the design of the ring and the idea itself is a bit dated — this type of look was common in the late 1990s and early 2000s when newsrooms would have "Web stations" with Internet-connected computers located at a central point in the room — this was the day before everyone had Internet access at their desks.
The look is also somewhat dated and the vertical lines between each letter in "Digital" is reminiscent of the Digital Equipment Corporation logo.
Other changes include the addition of a larger flat screen on the left side of the main set that is used for both OTS graphics and interviews.
The set previously had a smaller monitor in this area.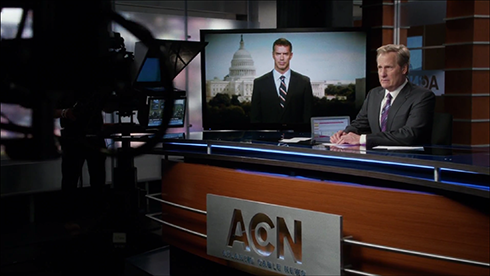 In addition, the large printed graphic to the right side of the set has been replaced with a mix of printed graphics and smaller monitors. The center features a stylized cityscape and the "News Night" logo above. Four smaller monitors on either side show mostly logos and graphical loops.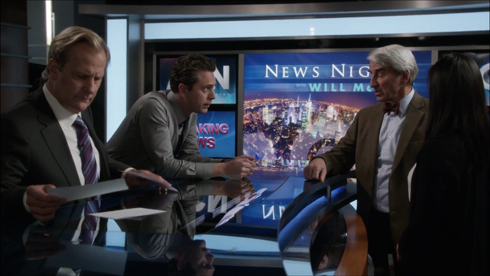 Despite the set (presumably) being used primarily for "News Night," when business report Sloan Sabbith anchors from the same set for special coverage of the Boston Marathon bombing, which plays a key role in the season opener, the on air shots avoid showing the "News Night" logo — instead just framing the shot to include the monitors — but it does remain visible in wide shots of the studio. Check out other sets-within-sets on TV.