MSG network adds studio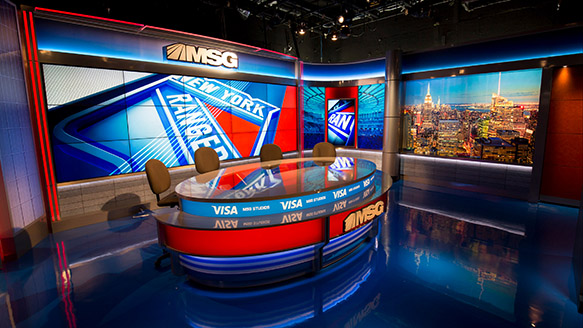 MSG debuted Studio B in October to better position the regional network for increased programming and to give it a true home. The 1400 square foot set was designed by James Yates Production Design and built by Creative Dimensions and features large brandable areas and flexible layouts.
Studio B is located across the hall from Studio A, which is also shared with the Fuse network, making it the networks first exclusive production area.
"We wanted a studio that was as flexible and as large as possible," said Jeff Filippi, SVP/executive producer of the MSG Network. "Our graphics department is not looking at this as the same kind of full-page, baseball-card feel but something that's integrated into the set so it's a part of the overall theme of the way the set looks."
The sets main anchor area includes a 17 foot 5×3 monitor array with a large four person desk. A secondary area includes a smaller 3×3 monitor wall and a touchscreen for analysis.
One of the more unique features, or challenges, of the set is the large pillar in the center. Yates had to work around the buildings structural element and make it look presentable on air. The solution, a distinctive feature that resembles a New York skyscraper.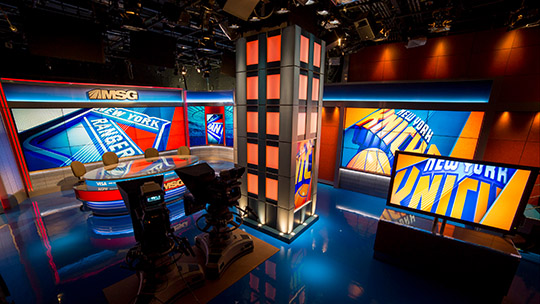 The studio is used primarily for Knicks and Rangers pre/postgame programming and the weekly "Hockey Night Live."
"This studio gives us a lot of options and not only on event days," says Jackie Lyons, VP, network operations, MSG Network. "If we wanted to do a postproduced special, we have the opportunity to do that and not have it look like one of our pre- or post-game shows."