CNN repurposes 'Piers Morgan' set for Cosby interview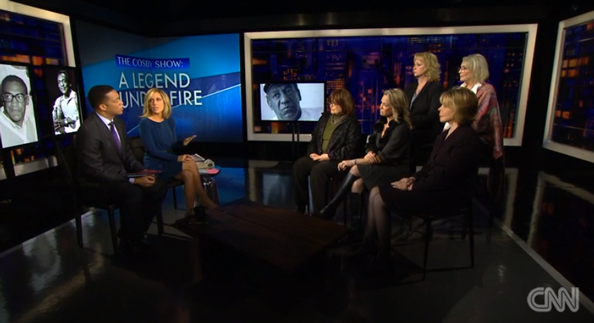 The former home of "Piers Morgan Live" played host to a CNN special on the recent accusations against TV star Bill Cosby with some key lighting changes and subtle modifications.
The special, hosted by Don Lemon and Alisyn Camerota, included five women in the network's New York studios who have come forward to accuse Cosby of rape.
For the special, CNN dimmed the dura backdrops to create a more somber look and feel. The dura's backlit frames were illuminated in a pale gold, while the network also added freestanding flat screens in both portrait and landscape orientation that featured black and white photos of Cosby.
The set's corner rear projection screen was used to display a branded animation loop.
Lemon and Camerota were seated on two chairs on one side of the studio, with the five woman on the opposite — three on chairs and two on high stools.
Carefully tuned lighting illuminated the talent while keeping the backgrounds and relatively muted.
The set, which was modified after "Piers Morgan Live" went off the air to feature a bright and rather garish stylized cityscape duras in favor of the dimensional abstract design used for Morgan's show. The corner RP screen was retained, as was the riser in the middle of the studio.
CNN had previously moved the entire "Piers Morgan Live" set to make room for "New Day."
The set has been used for a variety of purposes since then, including the network's "experimental" "CNN Tonight" that made use of a cheap office supply store desk (you, too, can own it!).