Industry Insights: How often to update your TV news set design?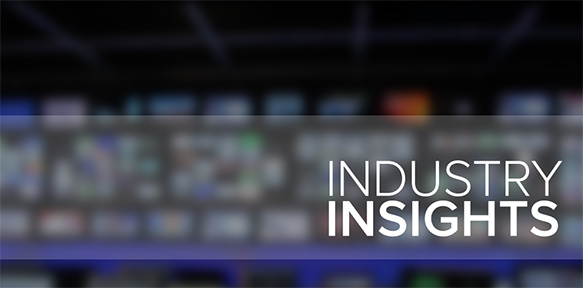 Subscribe to NewscastStudio's newsletter for the latest in broadcast design and engineering delivered to your inbox.
With November sweeps in the books, it's time to start thinking ahead for 2015 and beyond. At NewscastStudio, we often hear the same questions from general managers, news directors and creative service professionals. In that spirit, we've created our first Industry Roundtable.
Over the next few weeks, multiple industry professionals will weigh in on the biggest questions and trends facing the creative side of TV production.
We start with the "long debated subject" of budgeting. Some stations have money, some can make a set last 10+ years. So, what is the magic amount a design can last without becoming stale? How does technology play into all of this?
This week's question posed to the panel:

With budgets always up in the air, how often should a station look at updating their look? Where should they focus their dollar to get the most in a redesign?
Kyle Sanvictores of AKA Creative Group
"I think a good design should last between 3-5 years. That's typically the cycle where new technology has developed enough to make a huge impact on the functionality of the space. Take flat screen monitors or LED lighting for instance, it has only recently become attainable for lower and mid-size projects."
Tim Saunders of Broadcast Design International
"Some markets have a dominant station that is usually the 'Leader of the Pack' and drives their competition to upgrade and make changes. Other markets have very competitive spirits and are always trying to out-innovate their competition.
Stations should budget for set venues and technology that helps them to better interact with their viewers.  There is a big demand for large video walls and other interactive video displays on sets.  Stations really need to become informed of the cost of this display technology.  In the past 2 years we have encountered some clients who have a created a display technology wish-list that exceeds their entire studio set budget."
Bryan Higgason of Clickspring Design
"Flexibility is key. If the set can shift mood by using LED lightboxes and video technology it provides variety that helps to keep viewers engaged. Of course an exciting, forward thinking design helps too."
Dan Devlin of Devlin Design Group
"There are too many variables to answer this long debated subject. Market size, what your competition does, corporate ownership, massive profits during election years, and offsetting capital gains from those profits, and your position in the market. Are you a dominant #1 station with a stable product, or are you #3 and trying to attract new eyeballs or demographics? The list goes on from there… Short answer is there is no one size answer that fits all, we should evaluate this on a case by case basis."
Brendan Kilroy of Erector Sets, Inc.
"I don't believe there is an universal set lifespan. I have seen sets that look outdated the day they are installed because of poor design, lighting or material choices. Stations and set designers need to work together to look at overall trends and how these choices can impact and ultimately improve the viewer experience."
Mack Mclaughlin of FX Design Group
"Over the years we have seen most stations change sets every 5-8 years, though some sooner, and a few after 20+ years.
In the interim, as a refresh, they should change the areas seen most on camera, which is typically the background graphics. We are recommending they replace them with a combination of high and low res video backgrounds. These will add punch and an instant 21st century look to the set. The good news is when they do get a new set, this technology can be incorporated into their new design.  The graphics department should love designing for these areas in showcasing their storytelling."
James Yates of James Yates Production Design
"There is always an economy of scale in doing a complete redesign versus doing small changes piecemeal over time. There are minimum costs like trucking, on-site labor and project management. It's hard to say how often you should update, but, when you make the decision to do so, I recommend that you do as much as you can when you have the opportunity."
Jeff Hall of JHD Group
"The trend for a redesign seems to land every 4-5 years. In that 4-5 year span the electronics advance rapidly allowing prices to rise and fall. The need to update the studio in technology seems to be the area of most interest. The ability to distribute information and flexibility comes with electronics."
The Takeaway
The exact number of years a set design can last varies, especially in the age of consolidation. Technology continues to rapidly advance, which is dictating the refresh schedule and making a big impact in the overall design strategy.
Stations need to focus on the areas that are seen on air the most and work from there.
Next week
Our industry panel will tackle the use of virtual set technology and design. Every year it's heralded as the best way forward, but how does it really stack up in our information driven society?