Industry Insights: The ever-changing news cycle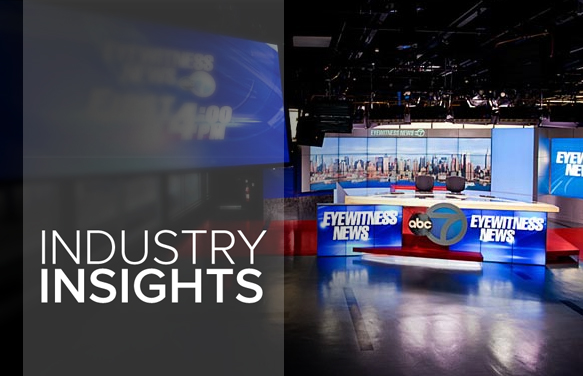 Subscribe to NewscastStudio's newsletter for the latest in broadcast design, technology and engineering delivered to your inbox.
The news day is getting longer and longer. Talent, staff and studios are seeing more use, so what has to change?
According to the PewResearch Journalism Project, local stations produce over 6 hours of local news per day, a rise from 4 hours produced just 10 years ago.
This week's question posed to the panel:

With many stations focusing on more hours of news each day, what considerations should be made in terms of sets and technology to accommodate this increase in news production?
Kyle Sanvictores of AKA Creative Group
The set designer should be involved with the graphics animator. Mockups of what the screen shots will look like along side tickers, lower thirds, and graphic insets is crucial in creating a cohesive vision that works in a complementary way. They need to gel and look thought out when seen in conjunction with each other.
Jim Landy of AV Design Services, Inc.
If it were me I would design any set (new or redo) with various smaller areas which would enable many different camera blocking capabilities. Currently the status quo is typically the main news desk area, weather, sometimes social media area and interview area or a very large studio with few varying looks on the set.
LED is very popular at the present time although too much for a lot of budgets although the price is coming down slowly. Good LED is labor intensive to manufacture properly. With lots of large display walls being installed (and almost regularly display walls that are out of aspect ratio-not 16:9) more and more it has become necessary to provide an Image Control Processor that offers the ability to "window" multiple images across any given display system in the proper aspect ratio without morphing the image on screen (stretching and cropping)…that being said, more sophisticated processing systems offer the ability to custom design graphics/video templates to custom fit any display that is not typically 16:9.
Tim Saunders of Broadcast Design International
Flexibility and versatility while keeping production as simple as possible. With recent technologies such as RGB LED lighting, video walls, vertical displays and others, it is quite easy to alter the look of your sets for different dayparts or special reports such as election coverage. We also integrate new stand-up and special venues for faster paced interactive segments
Dan Devlin of Devlin Design Group
At Team DDG we believe scenic needs to be versatile. Storytelling environments with multiple display technologies that can accommodate different looks for different day parts and news, or other covered events, are a must for a contemporary news production.
Brendan Kilroy of Erector Sets Inc.
As stations add hours of news coverage, they are also looking for increased variation of shooting backgrounds. Changing backgrounds doesn't always mean changing out physical set elements. Changes can also be within the set elements themselves, such as monitor content and RGB color changes along with different graphic overlays – all that can combine to provide a dynamic background adding to the viewer's experience.
Mack Mclaughlin of FX Design Group
We believe that versatility and flexibility drive studios today. Technology, whether it be large monitors, video walls, or color changing LEDs, will allow clients the flexibility to brand the set by daypart as well as by affiliation. We very rarely apply any fixed branding on sets anymore.
James Yates of James Yates Production Design
I think the ultimate goal is to create variety within the set design to avoid viewer fatigue. You will want different looks at different hours of the broadcast day. There are a number of strategies for achieving this: multiple areas, one area with multiple backgrounds, color-changing lights, video displays, moving scenery. You should consider which strategy will serve you best.
Jeff Hall of JHD Group
Sets and technology are motivated by stories and talent, so having the ability to change locations keeps the viewer involved. The talent no longer is anchored to a desk position and this creates a need to have more destinations for the talent. It is important that the space conveys talent ownership.
The Takeaway
Flexibility is key in modern TV news set design, and technology is continuing to make that easier and affordable. Between new display technologies, virtual sets and color changing LEDs, news sets are not constrained to one visual identity.
The viewers of today have short attention spans and set design trends have to capitalize on that. Keep the view involved and avoid viewer fatigue.
Up Next
Soon we'll be hearing from leaders in the lighting design and music industries about the changes facing the industry, but first, we'll learn about the biggest trends to keep an eye on in set design.
The latest in design, production and engineering
Subscribe to NewscastStudio for the latest delivered straight to your inbox.