'Evening News' botches Photoshop job for 'on air' graphic for Twitter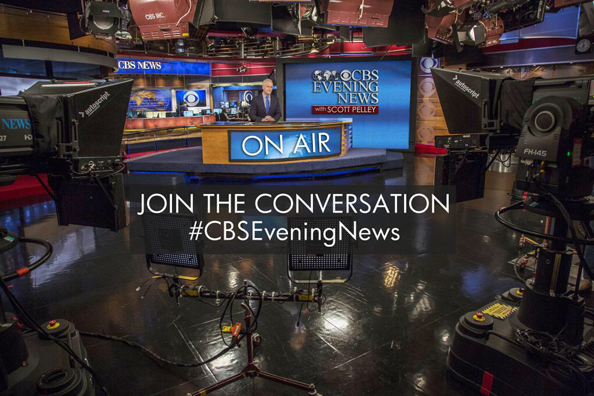 The "CBS Evening News" has started using a photo to promote its hashtag on Twitter — but it features a rather botched Photoshop job.
The CBS News flagship broadcast tweeted out the photo above shortly before 6:30 p.m. eastern time to let users know the broadcast is on the air and encourage them to use the hashtag #CBSEveningNews.
The simple, rather elegant typography is layered on top of a wide view of Studio 47, the home of the show's set.
However, the network has Photoshopped in the words "On Air" on the video band on the front of the anchor desk and the show's logo on the large, on-set rear projection screen.
The Photoshop job is barely passable — with the type being much too sharp and crisp to be believable as real. Some attempt has been made to alter the perspective and placement of the letters, but it ends up drawing more attention to itself.
The idea of using a graphic to promote a show's "on air" status has been popular for some time now, so we thought we'd take a look at what the other networks use.
ABC News' "World News Tonight" uses a rather text heavy, fully branded graphic that encourages viewers to retweet as well as gives the show's hashtag.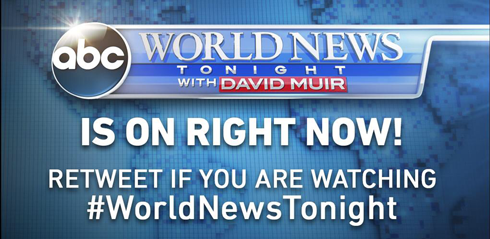 Meanwhile, NBC News' "NBC Nightly News" uses a more subtle design with a muted black and white photo background and loosely spaced typography. A large "On Air" appears in red in the middle, while additional text encourages viewers to "join the conversation."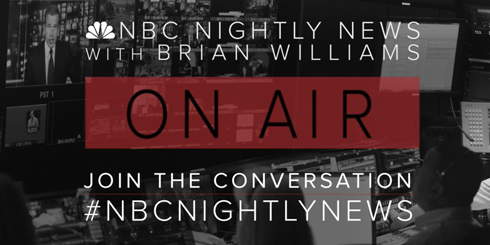 PBS Newshour appears to forgo the use of a standard graphic for weekday broadcasts, instead tweeting out square photos of its top stories during the week.
On the weekends, however, it switches to a branded graphic with a unique photo each time. Instead of including the hashtag in the graphic itself, the show typically includes it in the tweet itself.