Viewer calls station 'bunch of jerks' for changing to new graphics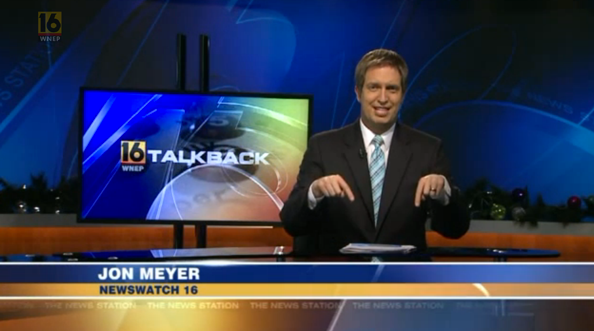 Whenever a TV station changes graphics there's always viewers who aren't thrilled with the new look — but one Pennsylvania viewer felt so strongly about the new look at WNEP-TV in Scranton/Wilkes-Barre he called the station a "bunch of jerks."
"Can you people do me a favor and go back to your old graphics?" the anonymous caller said on the station's "Talkback 16" line, which allows viewers to call in and record comments that are then played back in a daily newscast segment.
"These new graphics you can't even understand what the hell they are. Go back to your own graphics, I mean right away because they are hard to understand. And I mean do it right away, you bunch of jerks," he finished.
Other callers were complimentary, saying the new weather graphics in particular were "easy to read."
The final caller likes the graphics, but requested the station switch to new music.
The station has used a "dance style" version of Cliff Schwarz's "Move Closer to Your World" since 1994. Before that, Newswatch 16 used the original version of the theme going back to 1981. That version of the theme is still used by WPVI-TV in Philadelphia and WKBW-TV in Buffalo, N.Y.
You can listen to the calls in the clip below; the graphics comments begin at about 1:05:
[field name=iframe]