Chicago NBC uses set wall for Golden Globes 'viewing party'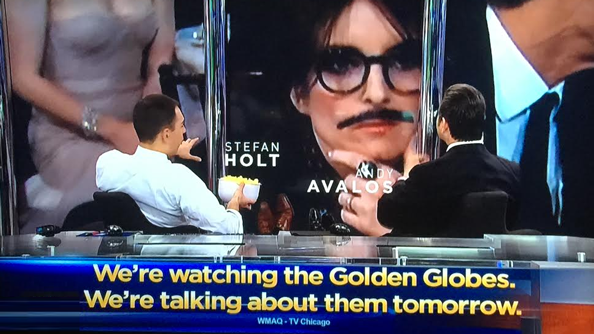 Chicago NBC O&O WMAQ-TV ran short promos during the network's broadcast of the Golden Globes that show morning anchor Stefan Holt and meteorologist Andy Avalos "watching" the Golden Globes on the set's giant video wall.
The wall, which features a five panel, vertically mounted flat screen "window," normally shows a live video feed behind the anchors.
The design first appeared on WNBC-TV's set in New York City and was replicated at the Chicago station. A similar, though simplified design, is used at KNBC-TV in Los Angeles. NBC stations in Miami (WTVJ-TV) and Dallas (KXAS-TV), meanwhile, use horizontally-mounted low profile flat panel arrays behind their anchors.
In Miami, the array is wall mounted, while in Dallas it's more of a freestanding design.
The promos, which were accompanied by the tagline "We're watching the Gold Globes. We're talking about them tomorrow," also included a bowl of popcorn that the talent was snacking on.