Pa. forecaster creates 'cloud' on outdoor weather set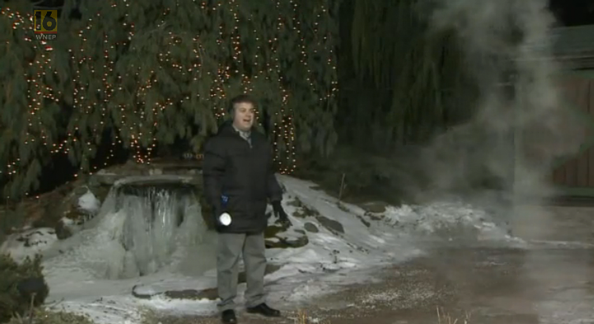 Running out of ways to show it's cold, one Pennsylvania forecaster used the station's outdoor weather set to showcase a popular cold weather pastime — throwing hot water in the air to form a "cloud."
Meteorologist Kurt Aaron, who works at WNEP-TV, the Tribune owned ABC affiliate in Scranton/Wilkes-Barre, Pa., gave the trick — which has been popularized recently on Vine, Instagram and other social media — a try.
"We're going to try to make an instant cloud here," Aaron said in a suspenseful tone.
"This is about all you can do in an arctic air mass to have fun," Aaron said with a chuckle.
[field name=iframe]
Outdoor weather studios have been in use around the country, to varying degrees (no pun intended) for some time, but WNEP-TV is known for being one of the only stations to use it almost exclusively.
The station has used the set, dubbed "The Backyard" since the 1970s, when the station was located near the Scranton/Wilkes-Barre International Airport (yes, that does exist).
When the station moved to its current home in 1989, a new backyard was built, featuring a shed-like structure that contains the chroma key wall and monitors as well as some simple landscaping.
In the early 2000s, the station renovated the backyard with the help from a local landscaping company to include a water feature, more greenery and a patio. The sliding barn door was added in front of the key wall, which allowed the station to shoot the backyard wider without the garish green wall showing up.
WNEP-TV uses the Backyard set for all of its weather forecasts, with the exception of some segments produced from the indoor weather office off the main newsroom during severe weather when it would be unsafe for the forecaster to be outdoors.
Recently, Web-only video is being produced from the weather office as well, utilizing a large flat screen mounted to the wall.