'The Nightly' launches on Comedy Central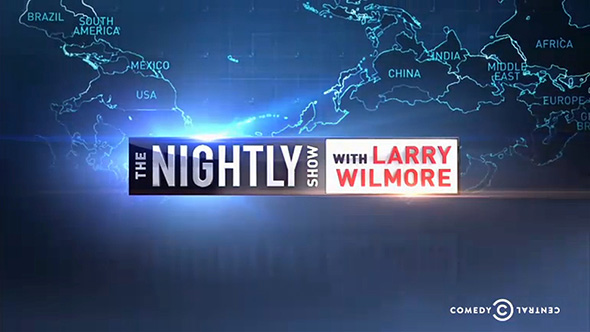 Comedy Central's newest satirical look at the news debuted last night from the former studio of "The Colbert Report" and features a set that's full interesting quirks.
"The Nightly Show with Larry Wilmore" features a roundtable format that discusses current issues with a black focus. The shows set captures the world of television news and has many nods to network newscasts and Sunday talkers with some interesting elements.
The set was designed by Jack Morton PDG, fabricated by CBS Scenic Shop and lit by Christopher Landy of Vibrant Designs.
"The overall set concept was to create a space that was 'newsy' but informal, where a group of comics could sit around and discuss current topics," said Jim Fenhagen of Jack Morton PDG. "This drove the decision to create the glass, wood and steel conversation table that could be shot in the round."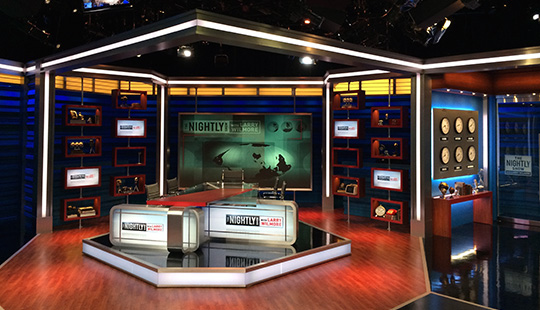 Along with many jib shots, the set has many bits of camouflage built in to allow cameras to capture guests from different angles down stage. One example is the various cubbies on both sides of the desk, which cameras are stealthily placed behind.
Combining multiple textures, the set captures the news vibe while also feeling friendly and approachable.
"The set-design incorporates iconic news elements like maps, clocks and monitor walls put together an informal loftlike setting. Modern is mixed with retro. Steel is mixed with wood. These set elements also reflect Larry's interests and his sense of humor," said Fenhagen.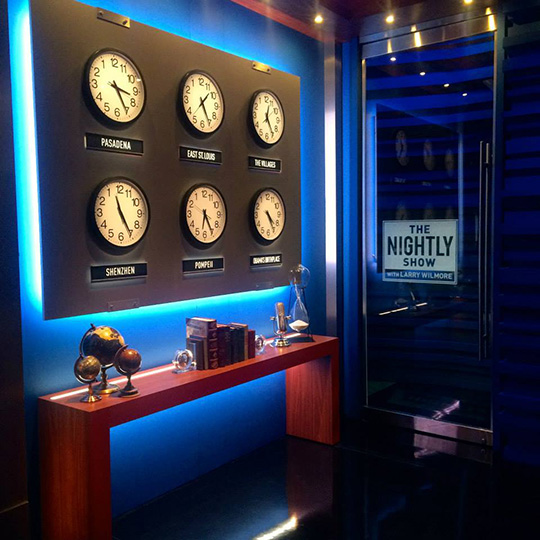 The shows unique perspective and take on news is reflected on the set through clocks that tic backward and a reoccurring upside down map.
"The idea was to find a new perspective," said Camille Connolly of Jack Morton PDG. "Larry [Wilmore] is helping us find out just because we see it right side up, doesn't mean it's actually correct."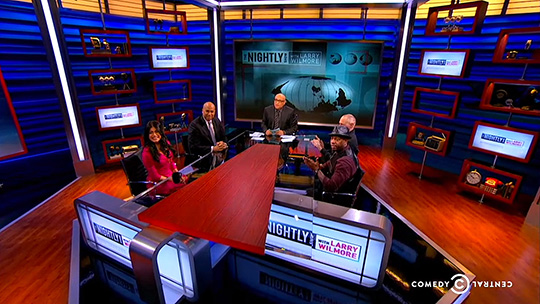 The set reused some technology from Colbert's former set, including a projection screen and all of the Christie MicroTiles, which have now been arranged into one large array.
Graphically, the shows opening may remind you of a nightly news broadcast, as it closely mimics "NBC Nightly News."
A large extruded logo gives way to floating image panes over an upside down world map. These translucent panes collect to form the shows logo in 3D.
Opening Sequence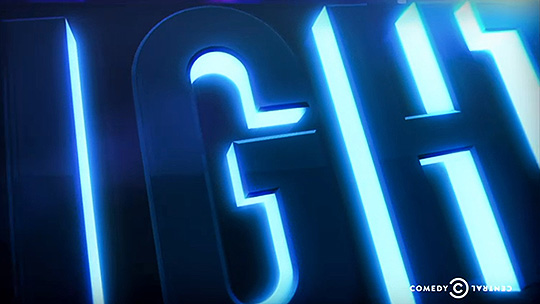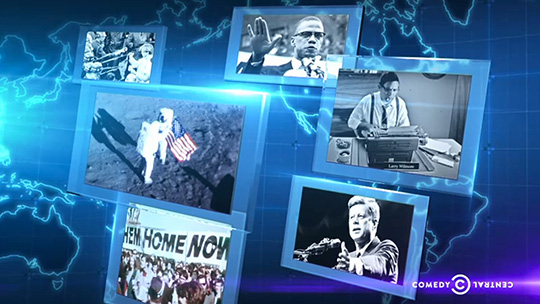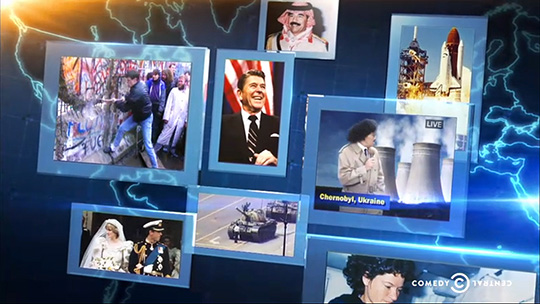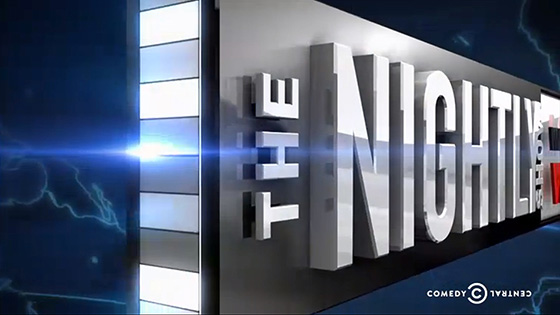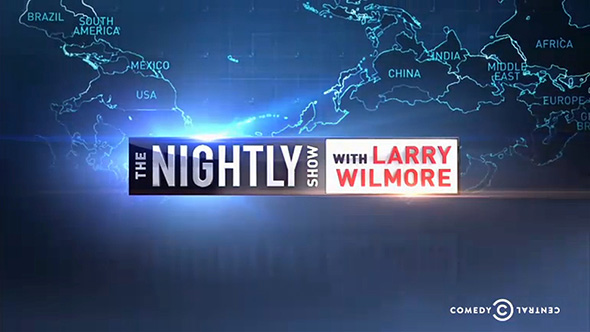 The graphics are paired with a orchestral theme that gives way into a funky upbeat rock track, crossing musical genres while matching the overall mood.
Overall, the set and graphics present a feeling of familiarity to the viewer while also introducing the unique take from host Larry Wilmore.