Q&A: ESPN debuts wraps set from James Yates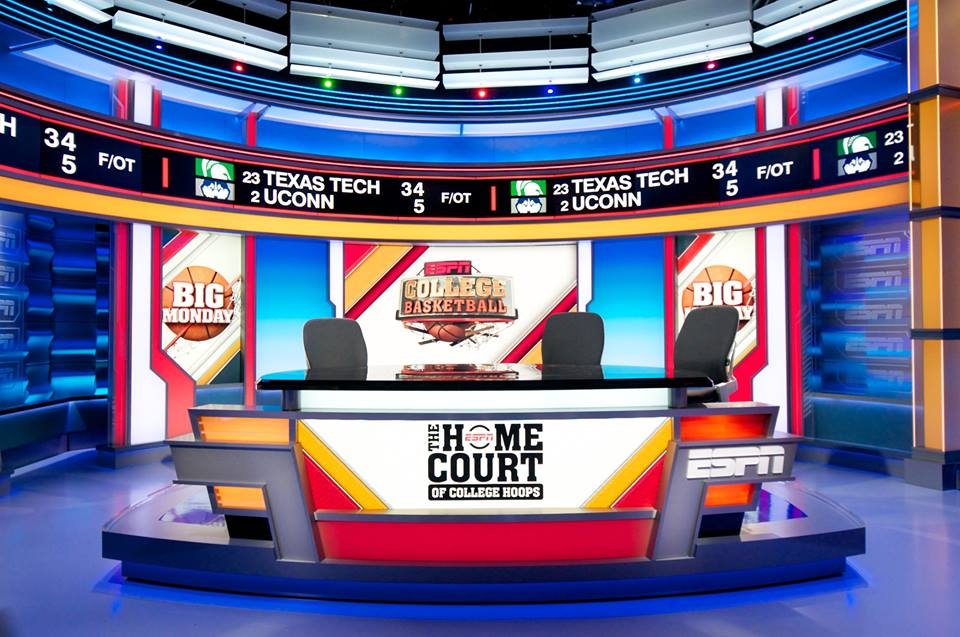 Subscribe to NewscastStudio for the latest news, project case studies and product announcements in broadcast technology, creative design and engineering delivered to your inbox.
ESPN debuted a flexible set in Studio F this month, the first time the studio has seen use since flagship "SportsCenter" left it last summer for the newly built Digital Center 2.
The design, by James Yates Production Design, features multiple presentation areas and is stocked with technology. A gallery of the set design is on SetStudio.
James Yates spoke with us about the project, which was a decade in the making for Yates.
Talk a little about the background of the project?
ESPN Creative Services reached out to me and two other firms in October of 2013 regarding a competitive pitch for a "wraps" studio set. Wraps are what they call their halftime and postgame studio shows. The studio would need to work for a variety of sports including college football, basketball, baseball and various soccer league games. After a design review process, I was awarded the project in late December of that year.
My work with ESPN goes back about ten years when I designed the ESPN Classic show, "Cheap Seats". The concept for that show was two guys in a fictionalized tape archive somewhere in the basement at ESPN watching old broadcasts and cracking jokes. Over the years, I had a chance to design small ESPN host sets for golf and tennis tournaments, remote desks and small studio sets like "Numbers Never Lie". Winning the wraps Studio F project got me to the next level at the network. It took a decade. But, I literally worked my way up from the basement!
How does it feel to be working in the former home of SportsCenter?
I have to say, I have no real nostalgia about the studio. Studios are just big empty rooms. Our industry is all about the energy and creativity we summon to fill those empty rooms. You can back a truck up to a studio. And, in a few hours, you can erase any sign that you were ever there.
What were the client's specifications / needs?
You hear this word all the time: flexibility.
In this case, that was central to the design. With each sport, you have a different graphics package. We wanted the color statement of the set be highly changeable to compliment whatever was in the video displays.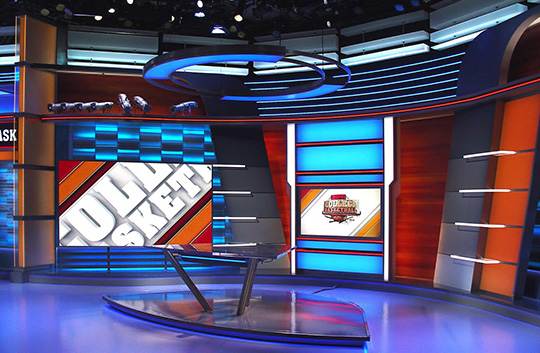 Typically, you see this goal of flexibility addressed with white plexi lightboxes backlit by RGB LED lighting.
Personally, I am starting to get a little bored with all the backlit white plexi. We worked closely with Bruce Ferri and his team from FLDA on building in color-changing RGBA cove lighting, wall washer fixtures, edgelit plexi and a variety of other neutral elements that could take colored light. The studio floor, for example is a medium gray. FLDA created lighting cues with a blue floor, red floor, etc.
What makes this set unique?
The wavy wall treatment is definitely the unique feature.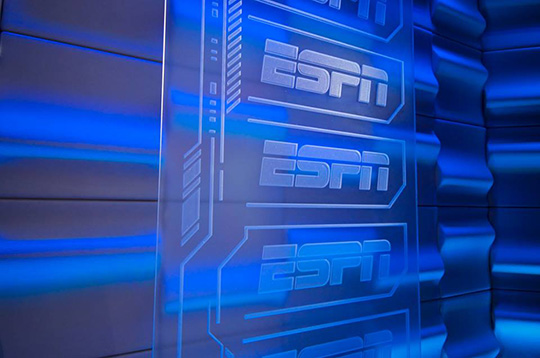 It's an acoustical tile product made from recycled PET plastic bottles. This is a new product that I came across. I was intrigued by the way they might take light. The fact that the product was environmentally friendly, easy to work with and had acoustical properties favorable for television production made it a big hit with ESPN.
It turns out that the tiles are imported from Australia. A labor dispute held them up in the port of Los Angeles for over a month. In the end, we received them from the other side of the planet in the nick of time.
How did you prepare for the multiple productions the set would have to handle?
ESPN requested multiple areas, a home base with an anchor desk, a debate area, a casual seating area, a demonstration area, research and a touchscreen position.
The risers with the anchor, debate and casual seating are wild [meaning they can move freely in the space]. This allows for different arrangements in the same physical space. One-third of the studio has been set aside for future productions. So, it was necessary to get creative with the available space.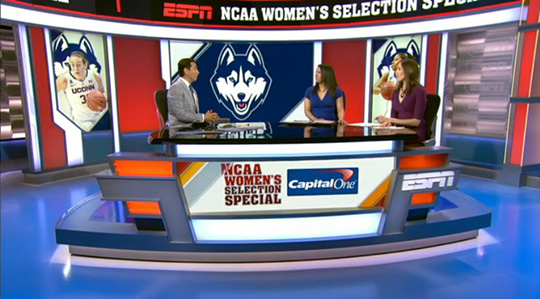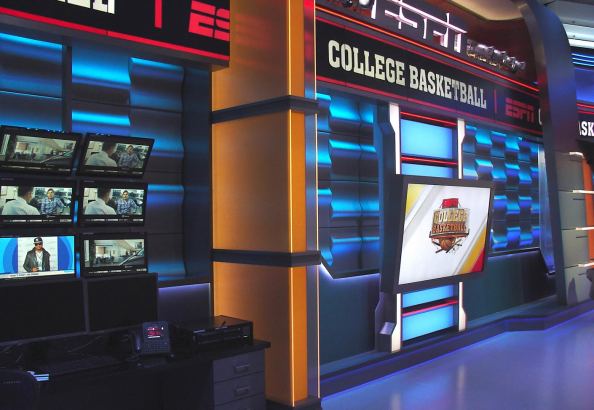 What technology was used, for both design and implementation?
The design was developed in Strata Design 3D CX 7.5. All of the drafting was generated using Vectorworks 2014. Ben Jacobson, the fabrication manager from Mystic Scenic Studios, did a fantastic job engineering everything in AutoCAD.
The video displays were integrated by AV Design Services, and include:
90 inch Sharp PN-R903 with touchscreen overlay
Two large 144 inch Leyard LED video walls
Video ticker composed of 26 46 inch Samsung narrow bezel LCD monitors
Silicon Core desk front LED display and three 80 inch Sharp LCD monitors
The built-in set lighting includes:
Chroma-Q Color Force RGBA batten fixtures for the walls
Color Kinetics Color Graze MX4 Powercore RGBA LED fixtures in the columns
Environmental Lights RGB LED neon accents
Subscribe to NewscastStudio for the latest news, project case studies and product announcements in broadcast technology, creative design and engineering delivered to your inbox.