Small but flexibile studio gains traction in St. Louis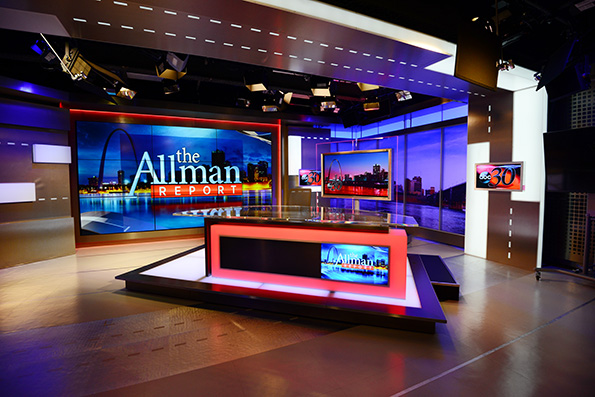 Tucked into a suburb of St. Louis, First Rule Film & Broadcast has built a network-caliber studio that plays host to many types of broadcasts.
Located on the 16th and 17th floor of a high rise, First Rule has set a high standard. With sweeping views of downtown St. Louis, the company's office commands a certain presence, a presence they also wanted in their studio design.
First Rule Film & Broadcast is the brainchild of Travis Brown, who owns parent company Pelopidas, an issues-based advocacy and lobbying firm that works with many campaigns across the state of Missouri. Brown makes many appearances on national networks, such as Fox News, and he and his partner envision the space as a multi-purpose studio for hire.
"Travis and I laid out a plan to build a 'broadcast ready' event space and a separate broadcast studio that would match up with any national cable show set," said Rob Glessner, director of broadcast operations for First Rule. "Provost Studio and Peter Hyde Design had recently built a broadcast ready event space for the Chicago Bears and had done numerous studios for the major networks. They were perfect partners."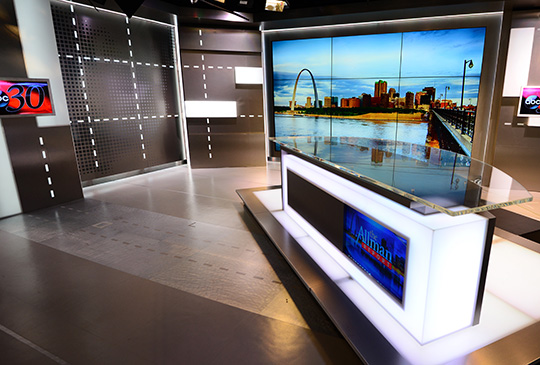 Peter Provost and Paul Benson of Provost Studio and Peter Hyde of Peter Hyde Design collaborated with First Rule to create two separate spaces, a 30′ x 30′ broadcast studio and a broadcast ready event space that could be used for town halls, parties and shows involving a studio audience.
KDNL-TV Finds a Home
The studio came online in fall 2014, with Sinclair's KDNL-TV signing on as the first major renter.
Like many things at KDNL-TV, the setup is a bit different than that of a traditional station. The St. Louis ABC affiliate last produced its own newscast in 2001. For many years, the station was the largest market ABC affiliate with no news, but in 2013 Gannett's KSDK-TV began producing a 30 minute program on behalf of KDNL-TV.
With the move to First Rule, KDNL-TV and Sinclair were once again trying to reimagine the mold of a TV news program and "The Allman Report" was created, fronted by former conservative talk radio host Jamie Allman.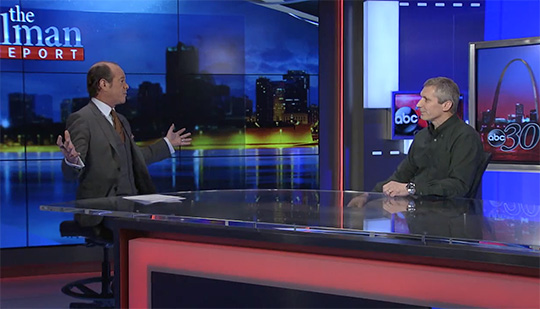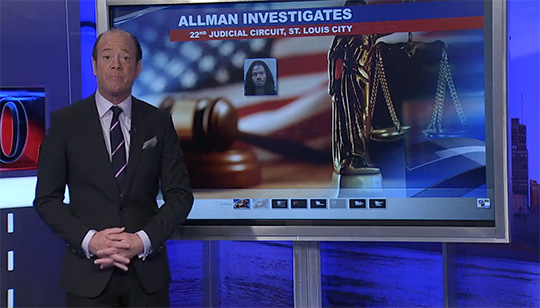 The show aims to create "an informative, debate-driven format focusing on the topics of the day with guest commentators and a wide social media presence."
"The Allman Report" has been on-air since January, and the studio continues to see other uses for network live shots and new shows, including one set to launch in the coming weeks.
"All of the major cable networks have used the space for live shots," said Glessner.
Flexibility is Key
With such a small foot print, flexibility is a key concept built into the design by Provost.
"I can have two completely different looks for two completely different shoots in a matter of minutes," said Glessner. "Within 5 minutes we can change all of the graphics, lighting, add or remove the anchor desk, move the placement of the touchscreen and backdrop to transform the studio."
The set uses LED color-changing panels to allow multiple programmable looks, along with sliding panels and moveable elements, including the anchor desk. The set also includes a 3 x 3 monitor wall and a large, rolling touchscreen.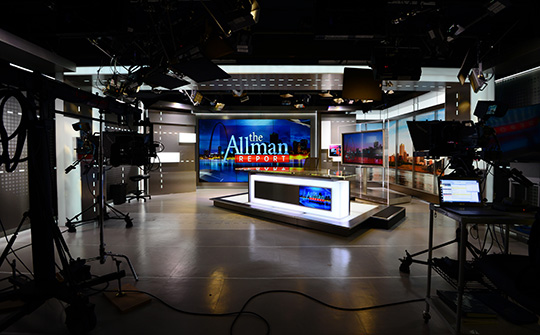 One unique feature of the design is the portal, a backlit element that spans the width of the studio, creating a unique header element that divides the studio.
"The features that Peter and Peter designed could have only come from an experienced designer," said Glessner.
Project Credits:
Studio Designed by Peter Provost and Paul Benson of Provost Studio
Event Space (Vue17) Designed by Peter Hyde of Peter Hyde Design
Fabricated by Showman Fabricators
Lighting Design by Phil Widmer
Soundproofing by Steve Haas of SH Acoustics