NewTek debuts TriCaster Advanced Edition Software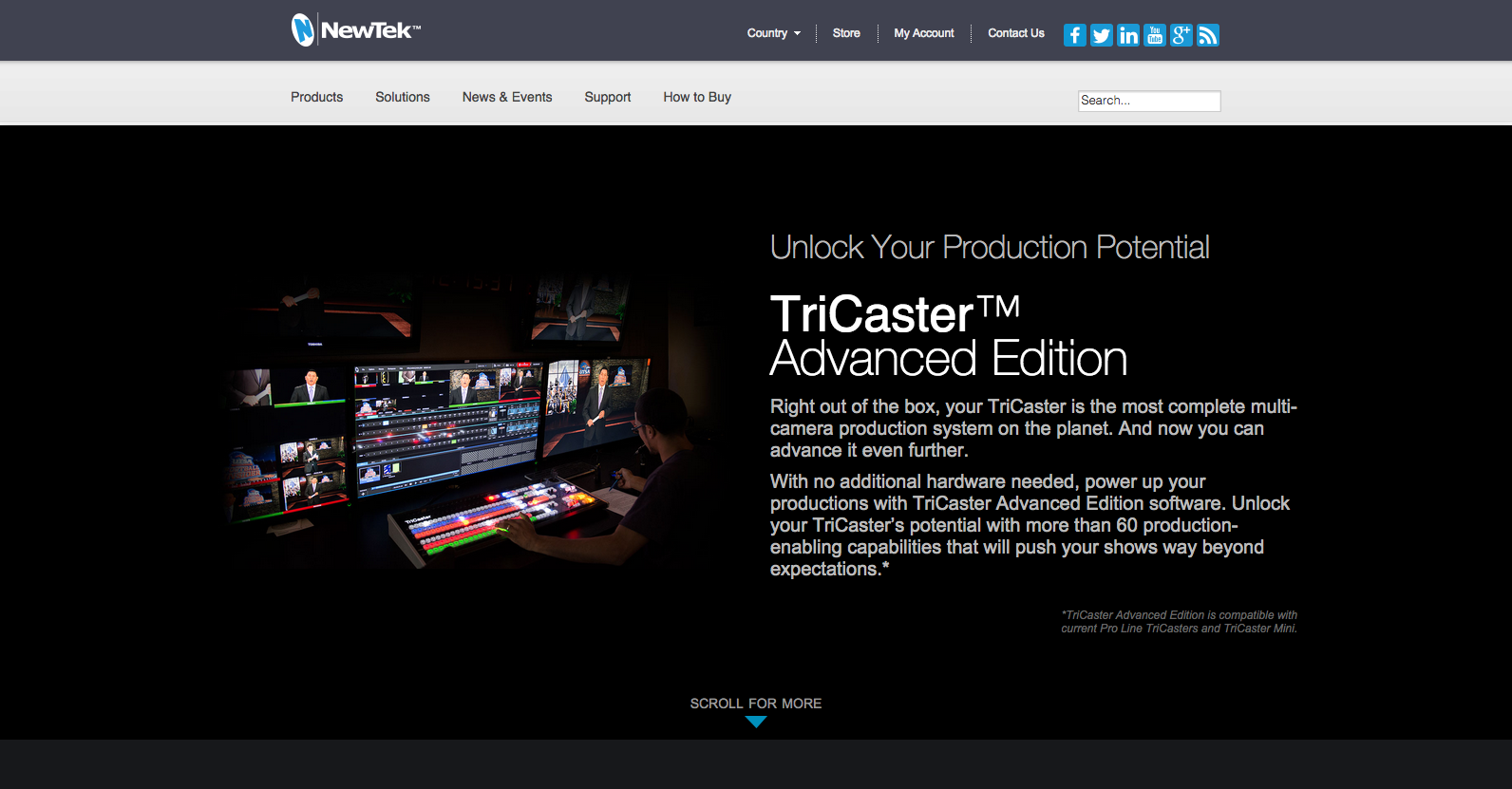 Subscribe to NewscastStudio for the latest news, project case studies and product announcements in broadcast technology, creative design and engineering delivered to your inbox.
NewTek is introducing TriCaster Advanced Edition, an option available for TriCaster Mini through TriCaster 8000, capable of adding new connectivity, creativity and efficiency to video production.
More than 60 new major capabilities and enhancements in TriCaster Advanced Edition help multiply audiences, streamline repetitive tasks and enhance productions, according to a press released issued by the company.
Automated real-time data-driven graphics, new IP workflows, advanced automation, multi-platform streaming, social and Web publishing, terrific in-show replay features, enhanced multimedia mixing, sophisticated production elements and more will transform everyday productions into state-of-the-art viewing, in addition to the incredible functionality already provided by TriCaster. With TriCaster Advanced Edition, producers can create more masterful multi-camera video programming without needing to invest in multiple devices or additional systems.
NewTek will be demonstrating TriCaster Advanced Edition at NAB booth #SL3312 from April 13-16.
"Any TriCaster is an extremely powerful, innovative, and cost-effective tool for creative producers," said Andrew Cross, president and CTO of NewTek in the statement. "With the introduction of TriCaster Advanced Edition, we have taken things to a whole new level for those who need to simplify or automate complex workflows, design innovative outside-the-box solutions to creative problems, or who just demand the very best of the best."
TriCaster Advanced Edition software adds these capabilities and more, according to the company:
Easily convert raw data and meta-data from both internal and external sources effortlessly and accurately into production-ready graphics in real-time using DataLinkRetrieve and update sports stats, election results, weather updates, social media feeds, sales reports, etc., automatically or on-demand
Multiple Live Streams & IP Workflows
Live stream to multiple platforms and services simultaneously with higher-quality video
Direct integration with Microsoft Azure, YouTube Live, Twitch and more
Supports fully integrated audio through Dante Virtual Soundcard networking from Audinate on every audio input
Display tally information from connected systems
Access production resources directly from a web-browser on almost any platform
Sophisticated Multimedia Mixing
Add transitions with embedded full color overlays and sound between playlist media, and combine real-time, slow-mo, and fast-mo with per-clip playback speed settings
Transition backward and forward in the playlist for presentations with ease
Faster, easier, real-time clip editing right in the DDR, including active recordings
Advanced audio integration and improved and fine-tuned sound mixing, external audio integration, precise audio levels, and monitoring
Boundless Creative Expression
Add dimension to virtual set scenes with Augmented Reality options for KEY layers
Design and add elegant borders and shadows to make bordered, editable overlays, backgrounds, and custom multi-box effect
Full motion pre-visualization tools provide animated transition and effect previews before they are taken live
Intelligent M/Es automatically configure themselves for Mix or Effect operations
Optionally enable automatic adjustments to input color characteristics, matching to a specific camera or approximating the settings of all incoming signals
A new Blue Only option complements integrated scopes and extensive proc amp features
SDI Auto-Detect eliminates the need to configure connections
Automatically update switcher input names to router input names
Capture and replay highlights with on-screen controls and fully configurable replay settings, including colorful custom in and out wipes with sound effects.
Create and store elaborate or simple sequences triggered by a sound level, media playback state, or any switcher action
Pause macros: trigger a macro sequence, stop on command, then resume when manually cued
Publish media to multiple user accounts on the same social network simultaneously
Enhanced image processing including LiveSet rendering and scaling
TransWarp 2 allows warping and transformations for incoming and outgoing video scenes.
Custom configured settings, calibrations and selections make setup far more precise and standardized to individual way of working
TriCaster Advanced Edition is available now as a one-time purchase at $1,495. TriCaster Advanced Edition is compatible with TriCaster 8000, TriCaster 860, TriCaster 460, TriCaster 410 and TriCaster Mini.
Subscribe to NewscastStudio for the latest news, project case studies and product announcements in broadcast technology, creative design and engineering delivered to your inbox.