NFL plans 'Draft Town' for Chicago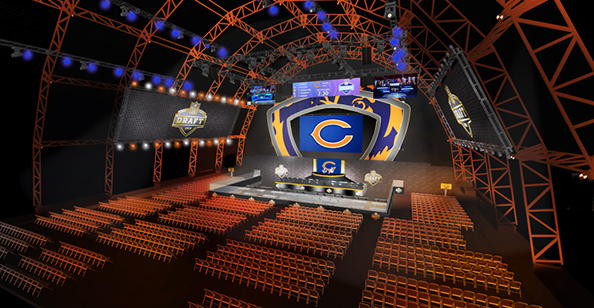 The NFL will take over a portion of Chicago's Grant Park with a 900,000-square foot "Draft Town" featuring temporary structures for public events, as well as decking out the interior of Roosevelt College's Auditorium Theatre.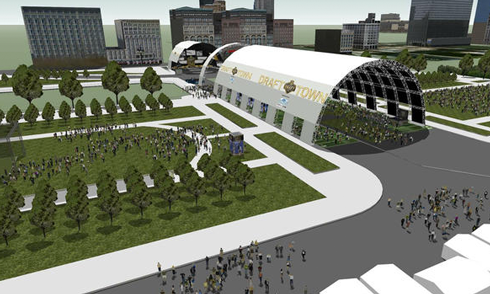 The NFL will erect a series of open air structures to house museums, attractions and seating for the draft, which will take place indoors at the historic Auditorium Theatre across the street for the first three rounds, with the final round, May 2, being held in the outdoor but covered "Selection Square."
Renderings show long, open-ended arched structures placed over city streets, with additional areas for team tents. The background for the event is the Buckingham Fountain, which will be illuminated in team colors as each selection is announced.
Inside the final round structure, producers will continue the color-coded theme by casting lights on the tent's metal trusswork.
In addition to the main area, the "Draft Town" will also include:
Chi-Chefs Kitchen: Area where fans can sample Chicago-style food from a selection of the city's best restaurants.
Combine Corner: Allows fans to participate in NFL combine drills such as the 40-yard dash and vertical jump.
Super Bowl museum
NFL Play 60 private youth clinics
NFL Play 60 Zone
Sweetness Simulator: Interactive design where fans enter a wind tunnel skydive simulator to float in the air in a tribute to Chicago Bears Hall of Fame running back Walter Payton.
Flag football tournaments for youths and adults
Family football clinic