NYC station debuts sponsored studio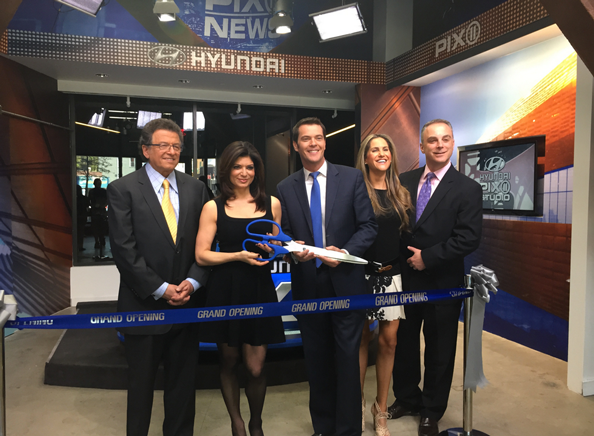 WPIX-TV has opened a new studio at the Barclays Center, a sports and entertainment arena in Brooklyn — and keeping with sports tradition, has dolled out naming rights to sponsors.
It was the New York City CW affiliate describes as a "multiyear marketing partnership," the new studio is officially known as the "Hyundai Studio at Barclays Center," a name that's quite a mouthful thanks to the two brand names incorporated into it.
The studio features a two person anchor desk with windows that overlook Brooklyn thoroughfare Flatbush Avenue. A huge dimensional combined Hyundai and PIX 11 logo is mounted on the front, while the sponsor's name also appears on the header above the windows.
The studio will serve as a hub for the station's Brooklyn reporting and be used in live shots originating from the borough as well as other productions for the station.
Other features include metal framework and monitors, as well as a small mounter mounted on another wall covered in a printed graphic.
[field name=iframe]