New 2 WTC plans hint at studios, newsrooms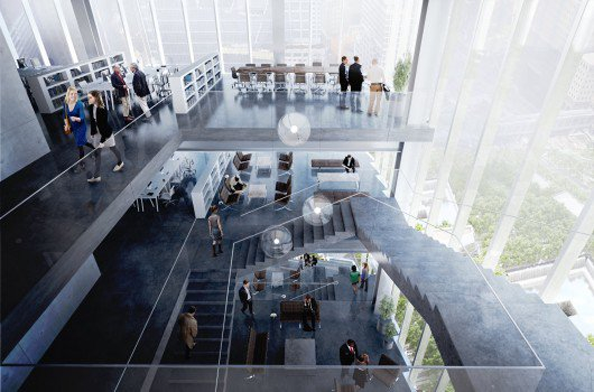 The architectural firm behind the revamped design of Two World Trade Center, which has been mentioned as a possible future home for News Corp and Fox News Channel, has unveiled details about the new plans.
Interestingly, design firm BIG, which replaced Foster + Partners as the architect for the project, specifically mentions TV studios and newsrooms in its interview with New York YIMBY.
Architect Bjarke Ingels tells New York YIMBY: "The program creates large floor-plates for the studios, medium-sized floors for the newsrooms, and more classic tower floor-plates for the spec tenants."
In addition, a rendering posted to architecture website Arch Daily is captioned as "Fox News lobby" (shown above), though this isn't necessarily a sign News Corp has fully committed (nor can we independently confirm that label is accurate). It's not uncommon for renderings to be created as "spec" concepts for prospective tenants and they could ultimately change completely in the final building.
Read more about the building's unique proposed angled design and more at Arch Daily.
H/T Arch Daily