Production Music Association announces moderators and panelists for upcoming convention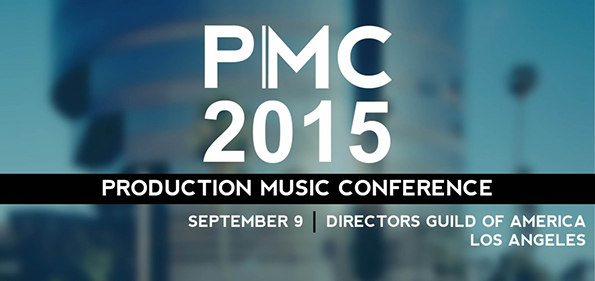 The Production Music Association, the advocate for the production music industry, has announced the first round of moderators and panelists who will be featured in sessions during PMA's Second Annual Production Music Conference.
The PMA's 2015 Production Music Conference will be held on Sept. 9th at the Directors Guild of America headquarters in Los Angeles. That event runs from 8 AM to 7PM.
"PMC 2015 is the premier annual event for production music, gathering the industry's top suppliers and decision makers under one roof for one day. If you are serious about the production music industry, you should make every effort to attend this truly unique event," said Hunter Williams, executive director.
Among the panels to be presented during this year's PMC are:
Follow the Dollar: Revenue Streams for Production Music
Writing the Next Library Hit: Composing Techniques for Production Music
Production Music in Advertising
Legal Considerations for Music Libraries
Trailer Music: When Out-of-the-Box Works and When It Doesn't
New Business Models in the Production Music Library Industry
The first round of confirmed Moderators and Panelists for PMC 2015, culled from member companies of the PMA, include:
Ryan Born, CEO, AdRev
Aaron Davis, Founder, Exploration IO
Timothy Andrew Edwards, Composer (Crime Watch Daily, Extra, Ellen)
Marc Ferrari, Founder, Master Source
John Fulford, Music Producer (Breaking Bad, Glee)
Joel Goodman, Founder, Icon
Benoit Grey, Composer (TMZ, Access Hollywood, Pokemon)
Andrew Gross, Owner, Konsonant Music
Sally House, Owner, Executive Producer, The Hit House
Sharon Jennings, VP, Music & Marketing, APM Music
Ben Kihnel, Director, Business Development, Rumblefish
Cassie Lord, President, 5 Alarm Music
Ron Mendelsohn, CEO, Megatrax
Ken Nelson, Executive Producer, FirstCom
Ali Pistoresi, Creative Director, Immediate Music
Nan Wilson, Owner, Manage Ad Music
The PMA has also announced that initial Corporate Sponsors of the 2015 Production Music Conference include AdRev/DashGo, Music Gateway, ProductionHUB.com, SESAC, Soundminer, and Warner/Chappell Production Music.
The latest in design, production and engineering
Subscribe to NewscastStudio for the latest delivered straight to your inbox.