5 of our favorite 'Name that News Music Package' entries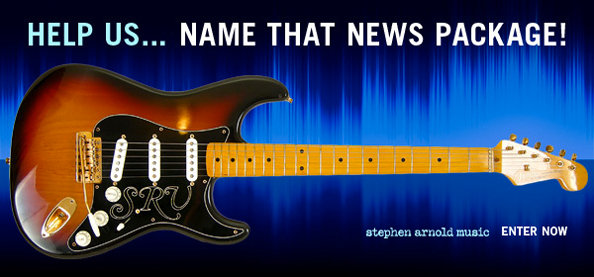 Stephen Arnold Music's "Name that News Music Package" contest has already garnered quite a few submissions.
Here are some of our favorites (so far):
Alliance
A strong, positive word that also hints at, as "wjtvbrettkenyon" points out, the coming together of news teams, communities, and news teams with communities for greater strength and impact.
Inspiratum Notos
This is perhaps one of the more creative suggestions, which translates to "Inspiring Winds" in English. However, the name in Spanish sounds particularly strong and we like how "Notos" can take on a sort of allusion to "notes." Plus, with the growing Hispanic population in the U.S., this could be a strategic way to sell the package to Spanish language stations. Suggested by Harley Wettemann.
React
Another strong and powerful word that also has implications of breaking news and timeliness. Suggested by Brad Klukow.
Now's the Time
A bit more home-spun sounding (and perhaps more like an image campaign name), but a good pick that emphasizes timeliness and friendliness. And as suggestor Kellen Dargle points out, a two-syllable word could be appended to it to match the melody.
Caffeine
Besides being something most journalists are all too familiar with, Caffeine does speak to the energy and hard-hitting notes in the package as well as the urgency (jitteriness, perhaps?) of the news.
Bonus: Bongo News 720
OK, we know this suggestion from Chris Pruitt isn't a serious one, but it's definitely one of the more entertaining. Pruitt's explanation for the number? "Because 360 degrees is just not enough."
To submit your own idea or express your support for any of the existing suggestions, just visit this page.