Mississippi sportscaster uses paper, marker as graphics system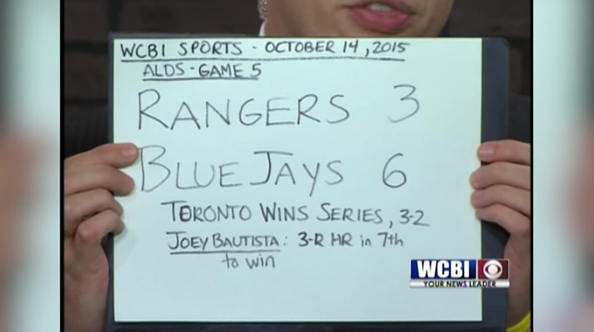 After a computer system failure at WCBI-TV in Tupelo, Miss. made it impossible for the control room to insert video or most graphics, sports anchor Robby Donoho made the best of the situation and turned to paper and markers as his graphics package.
Donoho appeared on camera during the entire sports block, holding up handwritten sheets of paper with scores, stats and schedules. A second camera was zoomed in on the sheets of paper, which were backed by black paper, and the control room would switch to that angle as Donoho kept reading his script.
Donoho even managed to make sure most of the sheets were topped with the "WCBI Sports" branding.
All in all, the result was a pretty informative sportscast: