Why do debates take place in empty arenas?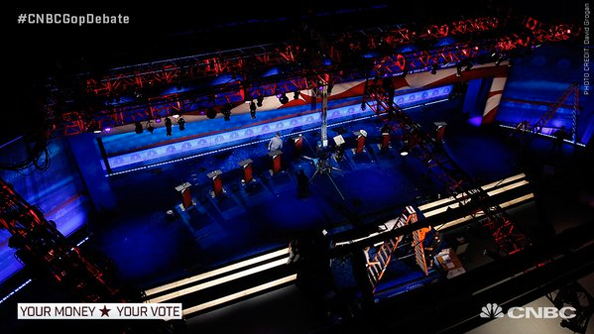 Subscribe to NewscastStudio for the latest news, project case studies and product announcements in broadcast technology, creative design and engineering delivered to your inbox.
Tonight's Republican primary debate on CNBC will, just like the first debate, unfold in front of a mostly empty arena — but there's actually some interesting reasons for what might seem like a counterintuitive setup.
The University of Colorado Boulder's Coors Events Center, which is hosting the debate, can seat up to 11,000 spectators, depending on the configuration used, but only about 1,000 of those seats will be filled.
If that sounds like a familiar story, you'll recall that the first debate in Cleveland had only about 4,500 seats out of 20,000 available filled.
According to NPR, the Republican National Committee gets 200 of those tickets in Boulder, with each of the candidates allotted some as well. CNBC retains some for itself and the university gets 150 seats.
Student protest
A student group at the University of Colorado Boulder protested the original pool of only 100 tickets for the school to distribute — prompting an increase to 150.
That group took issue with the fact the a university-owned facility was being used for a high profile event, but the students and other members of the university community are being largely excluded from participating, despite the fact they pay tuition or work for the school.
Why leave the arena mostly empty?
The issue here, according to the RNC, is that the debate is really designed more for a television audience and not a live one.
While simply filling the empty seats with anyone who wants to come in may seem like an easy solution, adding significantly more spectators could lead to a variety of logistical issues and added costs for security and other considerations.
There could also be additional challenges for CNBC to handle such as acoustics, camera placement and lighting configurations.
Inflated seating capacity numbers
It's also worth noting that the capacity figures thrown around in the media are often somewhat inflated because they reflect the maximum seating capacity in the most ideal configuration of the venue.
Major sports venues are typically designed with modular seating tiers and other features that allow for them to be configured in a variety of arrangements to provide optimal viewing and layouts for different types of sporting events, concerts or other live events — or even removed or reduced for events such as trade shows or expos that require more floor space than seating.
In a setup like the one used for the debate, with all candidates facing the cameras (and audience), a good chunk of the seating likely becomes essentially unusable since those seats end up behind the set, blocked off by draping or being taken over for other uses.
Why sports arenas?
So why use a venue that's essentially way too big?
Well, sports arenas are particularly well suited for this type of television production because they offer a large amount of flexible space, unlike an auditorium that has a set stage size. Any space that isn't used can just be curtained off.
Another reason is that it's much easier to locate even a smaller-sized arena in many parts of the country than a large television studio or soundstage — let alone one that's available for all the setup, rehearsal and strike time needed. Even smaller university towns often feature at least one arena-type building.
The high ceiling heights found in arenas are also ideal for bringing in the rigging needed for lighting, draping and scenery. Plus, the existing seating is often leveraged as a way to accommodate the audience. Even though, at 1,000 people, the University of Colorado Boulder debate only fills a fraction of the available seats, it's still a sizable audience that could be difficult to accommodate in other types of facilities or with rented chairs.
Finally, arenas such as the Coors Events Center also typically have built in support facilities such as large restrooms, press rooms, parking, upgraded power supply, security screening areas and emergency services that could also be hard to find in other types of buildings.
Subscribe to NewscastStudio for the latest news, project case studies and product announcements in broadcast technology, creative design and engineering delivered to your inbox.