Camel relieves itself on news set, anchor cleans it up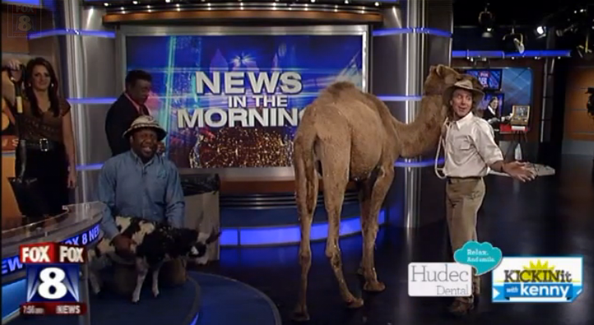 News sets sure take a beating — spilled coffee, champagne, Big Gulps and now, add camel poop to that list.
WJW-TV, the Fox affiliate in Cleveland, had a local animal expert on the show who decided it might be a good idea to bring a real, live camel on set.
That ended up about as well as you might expect, with the critter deciding to relieve itself on the studio floor.
WJW-TV, which is owned by Tribune Broadcasting, uses what's commonly referred to as the "Fox O&O" set.
Thankfully, anchor Kristi Capel went right to work with a shovel, picking up the mess and dumping it into a cardboard box similar to the ones many stations use for recycling old scripts.
Assuming that's the case at WJW-TV, we're guessing those scripts will not be recycled.