ESPN's 'Mike & Mike' to debut studio updates, new theme music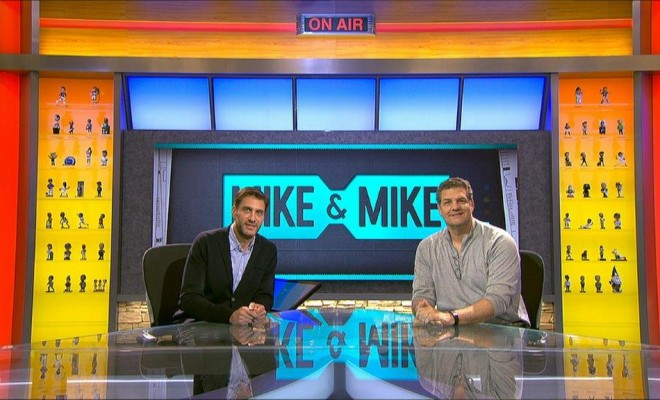 ESPN2's weekday morning show, "Mike & Mike," will debut an enhanced studio on Monday from James Yates Production Design.
Hosted by Mike Greenberg and Mike Golic, the show includes a variety of content from breaking news to lively conversations about trending topics.
The 1,700 sq. ft. studio space will include:
A 270-degree desk, which will allow for more personal, face-to-face conversation between Greenberg and Golic and their guests
A 9.5-feet-by-8-feet feature wall that will feature the new magazine-inspired graphics package;
A behind-the-scenes live social integration space that will enable the show's research team to easily cue up live social posts
A playback device that gives Greenberg and Golic the ability to trigger their own video from the host desk, in addition to soundbites;
A touchscreen monitor for select segments;
A floor-to-ceiling bobblehead display of the show's iconic collection, previously located on the Mike & Mike desk, set in a wall behind the new desk that includes 72 figurines.
"Mike & Mike" had originated from ESPN's Studio E, designed by Jack Morton PDG, which used to serve a variety of sports before Digital Center 2 came online. In recent years, the studio has housed a few dayside programs and seen some updates, such as a new desk for "Mike & Mike."
The show will also debut a new theme music package from Man Made Music that features an "infectious groove and a live pop horn section."