Election systems abound to enhance local broadcasts this fall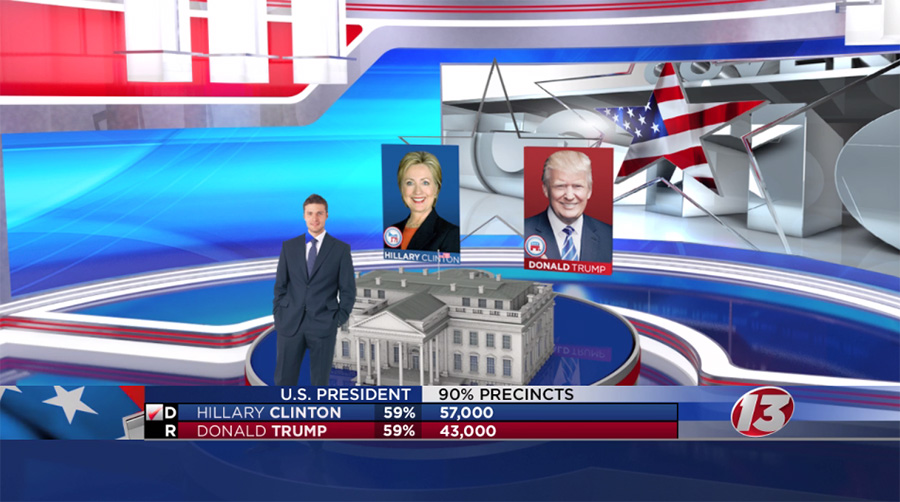 Subscribe to NewscastStudio for the latest news, project case studies and product announcements in broadcast technology, creative design and engineering delivered to your inbox.
In the world of broadcast, election night serves as more than a time to move our democracy forward. It's also an important time to showcase new technology and storytelling tools, with stations using touchscreens, augmented reality systems and real-time data-driven graphics.
At least, this has always been the case at the national level, and now, thanks to some manufactures, local stations can also increase their visual appeal on election night to differentiate their broadcast from the competition.
Many companies are working to support broadcasters around the election with new tools to compliment their broadcasts, allowing a deeper breakdown of the numbers and viewer understanding.
ChyronHego, Vizrt, and Brainstorm Multimedia all showcased new systems or upgrades during the NAB Show this year to present and analyze data, with templates at the ready for stations to bring the system online quickly.
[field name=iframe]
Example of election system from Brainstorm Multimedia
AccuWeather
Enhancing its popular StoryTeller product, CampaignTrail adds a new layer of functionality to the touchscreen with real-time campaign reporting.
"This year's elections are of the utmost importance, generating high viewer interest. AccuWeather developed CampaignTrail to help stations provide market-leading local election coverage in a fast and easy, interactive news presentation that will set them apart," said Ryan Ayres, VP of display systems and services at AccuWeather. "Audiences want to know the latest election developments. StoryTeller with all-new CampaignTrail is the answer to keep them engaged throughout the Presidential election."
Brainstorm Multimedia
With 14 pre-built templates, Aston Elections from Brainstorm Multimedia gives stations a complete solution for presenting a wide array of data on-air.
The solution is built upon Brainstorm's eStudio render engine, with fast, real-time 3D graphics in each of the templates that are easy to use.
During the NAB Show, I personally gave the system a try, testing the usability of adding data (which can be imported via CSV or from a variety of sources like AP). The system was easy to update, along with brand for a particular station, via fonts, colors and background graphics, while providing a polished package.
ChyronHego and FX Design Group
Partnering for a unique graphic and software solution, ChyronHego and FX Design Group unveiled their 2016 Election Package at NAB, built in Lyric with options available that include augmented reality and virtual reality graphics in Camio.
The package includes graphic templates that support instant data updates with quick exporting for station websites and mobile platforms.
Vizrt
"Broadcasters need to present a huge amount of data very clearly on election night," said David Jorba, president of Vizrt Americas. "The new Election Night package takes that data and easily displays it with custom graphics or in a compelling interactive election map with results that can be highlighted for each voting region."
The "Election Night" package from Vizrt includes customizable templates that can be used in connection with existing Viz workflows or as a standalone system-in-a-box.
Stephen Arnold Music
Similarly, Stephen Arnold Music has crafted a musical image campaign for the elections, that can be used for coverage and promos. The package, with multiple mix outs and variations, is available exclusively by market and includes a full bed of footage for branded promo spots.
Subscribe to NewscastStudio for the latest news, project case studies and product announcements in broadcast technology, creative design and engineering delivered to your inbox.