France's LCI relaunches with bright studio, renewed focus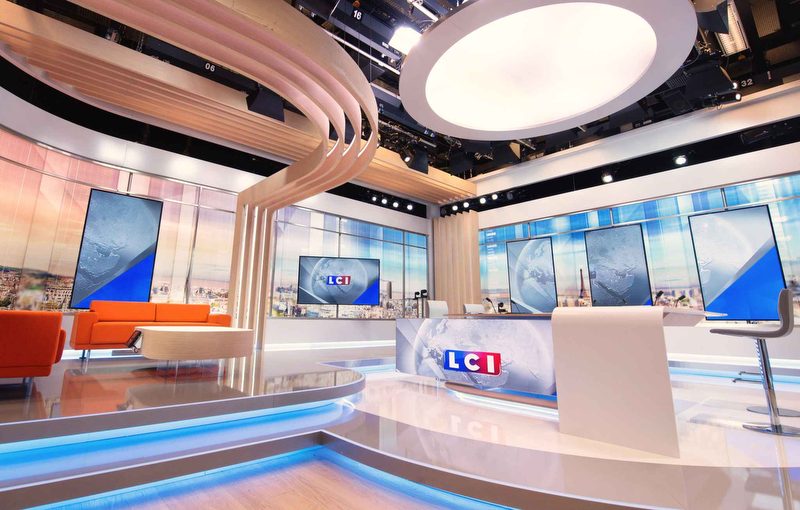 France's Groupe TF1 relaunched its around-the-clock cable news channel this week with a brand refresh and an airy new studio, part of a reorganization of the assets of MYTF1News, MetroNews and La Chaîne Info (LCI) into a unified presence.
LCI plans to focus on new ways of information consumption, with a priority on mobile content. To bolster these efforts, LCI is working on a "social newsroom," as well as sending alerts and streaming to all devices.
At the center of the 600-person operation is a new studio in Boulogne-Billancourt, a suburb to the west of Paris.
The two-story studio includes a five-person anchor desk, interview area and upstairs interview area. Connecting these spaces is a large cityscape cyc that wraps around almost the entire studio, giving the studio a sense of place, with large vertical monitors breaking up the view.
Similar to sister newscast "Le Journal," the wraparound background includes overlays that obscure portions of the view with hour numbers and opaque frost. Also connecting the space is a series of large, curved headers of repeating light wood beams.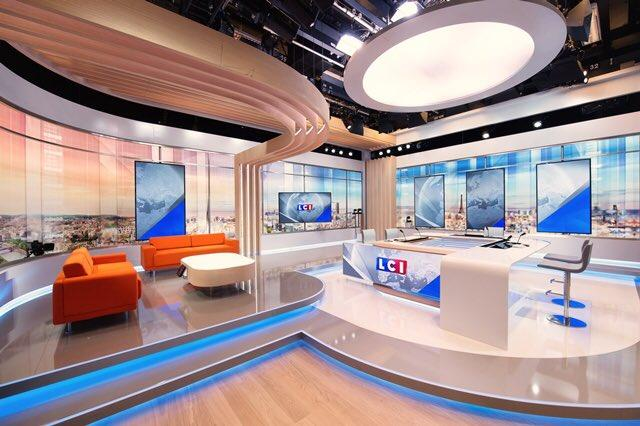 Instead of using traditional cameras throughout the space, LCI has opted for a series of robotic cameras placed around the scenery, with many visible on air. The setup also includes a ceiling mounted track-camera that provides sweeping shots of the studio.
The main anchor desk features two interlocking curved pieces with an LED front. The hollow center of the desk reveals a series of backlit slats, with a circular floating header. As is common for overseas broadcasters, the desk also includes various visible microphones.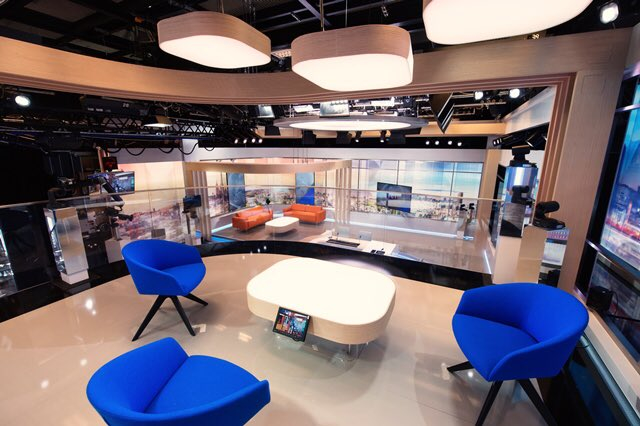 The studio's upstairs interview area includes three blue chairs and a custom coffee table that matches the floating lights and a similar piece in the large downstairs interview area. Glass railing wraps around the space, allowing the track-camera to shoot through it.
The set's main interview area, which is also used for morning programming, features two bright orange couches on a slick riser.
Interestingly, this week also saw the launch of France Info as the public news channel of France Télévisions and Radio France, with a similar all-device focus.