NBC News hosts Clinton and Trump forum from unique setting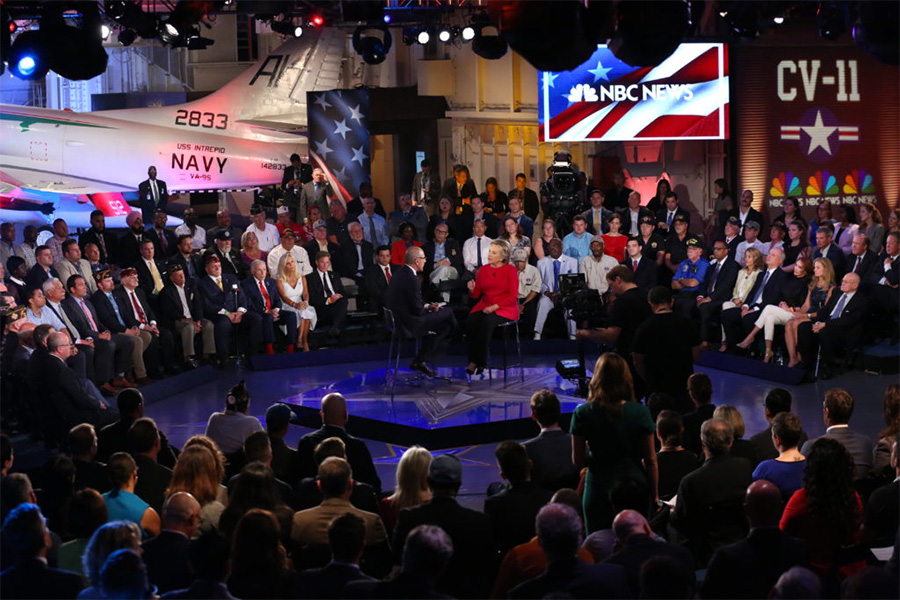 Last night, NBC News and MSNBC broadcast a special forum with presidential nominees Hillary Clinton and Donald Trump from the Intrepid Sea, Air & Space Museum in New York City.
The event, dubbed the Commander-in-Chief Forum, was hosted by the network and the Iraq and Afghanistan Veterans of America.
The main setup, located below deck in the Intrepid and designed by Clickspring Design, took full advantage of the unique setting of an aircraft carrier with planes in the background. Host Matt Lauer sat with each candidate atop a small platform adorned by a star graphic, a reoccurring theme in the spaces decoration.
An audience of veterans surrounded the platform and was often called upon for questions during the broadcast with correspondent Hallie Jackson helping.
The Lighting Design Group provided lighting design for the various broadcast positions around the ship, which also included one of MSNBC's traveling desks on the main deck for programs originating on-site throughout the day.