FLDA lights ESPN's coverage of the tennis US Open in New York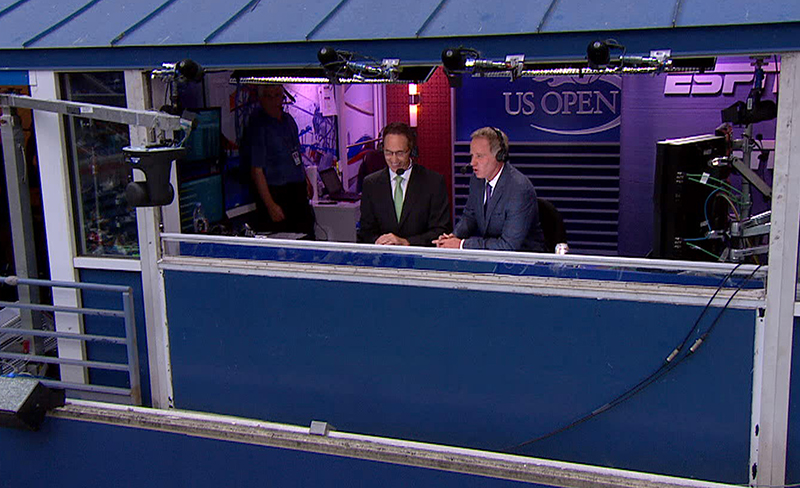 Subscribe to NewscastStudio for the latest news, project case studies and product announcements in broadcast technology, creative design and engineering delivered to your inbox.
The 2016 US Open recently wrapped up from the USTA Billie Jean King National Tennis Center in Flushing Meadows, New York. The event, broadcast on ESPN, featured lighting design by Ferri Lighting Design & Associates for the various commentators, analysts and interview subjects on-air.
Led by Bruce Ferri, the team also re-lit the USTA's permanent press center at the tennis center, with a a completely new lighting system to address the current needs.
"The room had a pipe with tungsten Fresnels for the interview area," explained Ferri in a release. "They wanted to get the heat down in that room and use a low-energy, more discrete, attractive lighting system for their press conferences. Their request was to create a feeling like the 'White House Press Room;' we wanted to give the videographers and photographers nice, even lighting to shoot under. We needed to give sufficient coverage for press conferences of one to three people typically but that could easily scale up for five to seven people."
FLDA selected Chroma-Q Studio Force D XT 12 LED luminaires for keylighting using partially recessed mounting. Backlighting is handled with fully recessed RH+A LED Bullets.
"We are running levels at 60FC and we are shooting at daylight color temperature (CT) in the USTA Press Room," Ferri said. "We chose that for two reasons. One the video crews and photographers wouldn't have to change their camera settings from inside to outside and since there's a 3×3 monitor wall behind the interview position, that's already native with a daylight CT, it just makes balancing the colors that much easier."
The FLDA team chose an Electronic Theatre Controls' Unison Echo 8-button Preset Station, which allows for easy operation when calling up the various preprogrammed interview looks.
With over 13 setups across the complex, FLDA worked closely with ESPN and ESPN International to light the 130+ hours of coverage. FLDA also lit a variety of locations for ITV and Japan's WowWow for Internet and International outlets respectively.
"One of our big challenges at the US Open is just the physical reality of having multiple locations so spread out. That is something we work hard to stay ahead of with all of our organizing. We have a small army of people who are out here keeping everything straight with all the different schedules of the sessions, and sourcing all of the gear. I give a lot of credit to FLDA's Lighting Designer Matt Gordon who oversaw the logistics of the crew and locations; he logged about seven miles every day, on foot, and our FLDA Project Manager Leigh Mundy-Fretz who worked with all of our vendors. She dealt with those logistics and getting the equipment that we required."
For the games, FLDA used an all LED system.
"When lighting these locations you need to be ready to go quickly since tennis matches are all different lengths so TV directors could cut to analysts at any time," explains Ferri. "Remember we are outdoors in August and September in New York, so it's usually really hot. Previously we were using HMI lighting packages that take warm-up time, meaning our lighting teams had to leave the lights on all the time. Of course that not only drew a lot of power but it made the already hot outdoor sets that much hotter and uncomfortable for the analysts, commentators, and guests. LED lighting has gotten so much better that we can light each location with all-LED rigs that we can turn on instantly and have the proper levels and color temperatures right away."
The FLDA team designed in some longtime LED luminaire workhorses that they've used for the past few years along with some newer units.
"In addition to Daylight LED ellipsoidals, we're also using AAdyn Jabs and Punch units along with Solas from Litepanels as well as the small PRG RH+A Bullets, especially in the booths for backlight positions," Ferri comments. "We did use some of the Bullets for keylight in the main announce booth because we can tuck them into such a tight area. We use a lot of the Robe Robin 600 and 1200 LEDWash units as keylights, because they're really bright and they are very useful. If more people are added to a set or people move, we can swing them over to adjust the coverage very easily. The movement is a fortunate by-product; for me it's more about the punch. The Robe units are really becoming a favorite of mine because of their volume of light; they are super, super bright."
Lighting equipment and support was provided by Altman Rentals, Inc., 4Wall Entertainment, Inc., and VER.
"Another consideration for lighting this year was the new roof structure at the Arthur Ashe Stadium at the tennis center. With the roof, the exteriors were a little different, so we used a lot of the Chroma-Q Studio Force Daylight XT 12 units since they also have good punch. For any of the interview positions with an exterior as the background, we wanted to be between 2,000 and 2,500 Footcandles (FC) during the day," Ferri comments. "With the announce booth, the background is an interior; behind the camera is open to the outside so we are getting ambient light from the outside that we supplement, consequently we are shooting at 500FC, crazy levels."
Subscribe to NewscastStudio for the latest news, project case studies and product announcements in broadcast technology, creative design and engineering delivered to your inbox.