Viz Story offers browser-based editing for social, OTT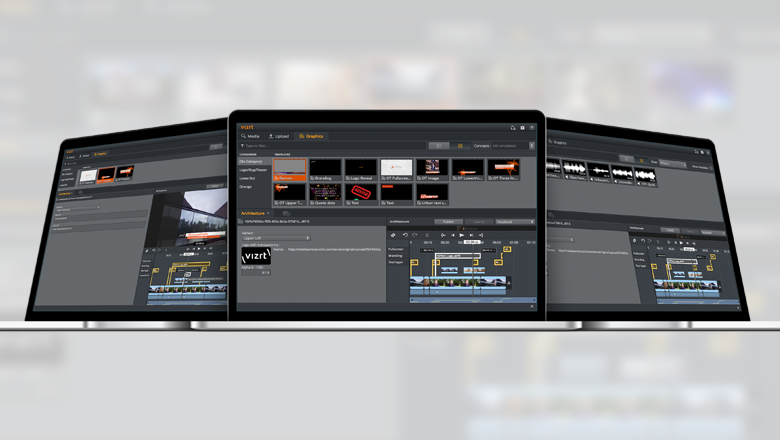 Subscribe to NewscastStudio's newsletter for the latest in broadcast design and engineering delivered to your inbox.
Update: Vizrt has released Viz Story version 1.1, which adds enhanced audio control and new graphics package options. In addition, the user interface has been improved to support smaller resolution screens and a video can now be dragged directly to the overlay video track.
Vizrt is testing a new offering that lets users edit video, audio and graphics directly from a browser — and publish it to social media and OTT platforms.
"The need for this tool was born from the rise of social media as a news source and the rise of social media video — each platform with different requirements; aspect ratios, frame rates, resolutions etc.," said Håvard Tveit, PM for Viz Story. "It's not easy to produce videos optimized for all the different social media destinations, so how does the average journalist get the story onto social media and in front of their followers as fast and easily as possible?"
The new platform, known as Viz Story, is currently in limited testing and Vizrt provided NewscastStudio with access to the preview version.
"The journalist should not have to think of the technical aspects of video production, rather just create the story, decide where to publish it and hit the publish button. Viz Story answers that need, and as the product grows we are going to see many more users than the traditional journalist who have a need to create easy but compelling video for social media."
While the service is not necessarily in its final form and lacked some functionality, the demo still gave a good, functional overview of Viz Story.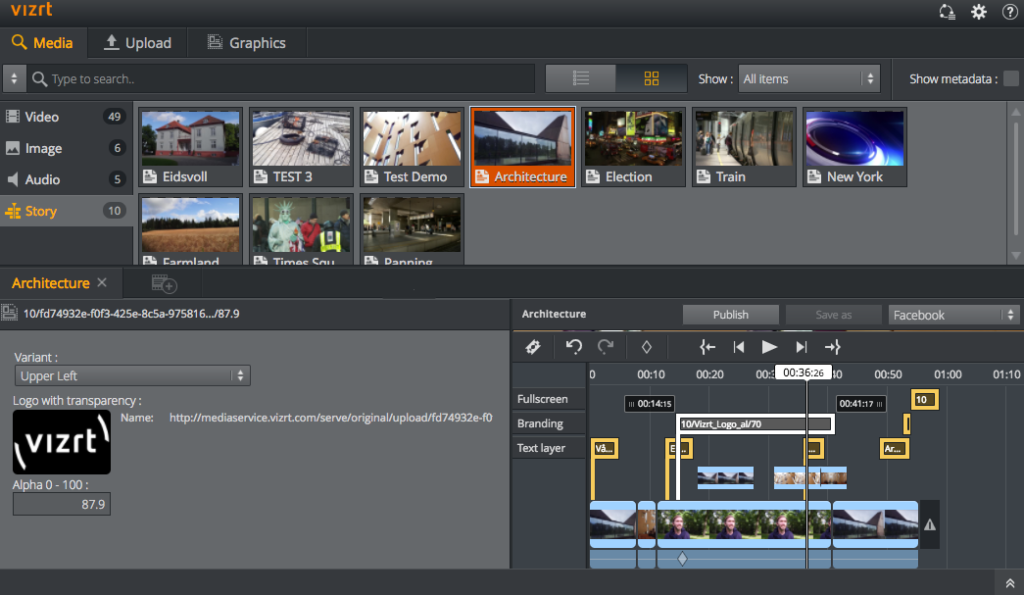 The interface smartly makes use of a timeline based GUI that enables a user familiar with nonlinear editing systems to quickly dive in and get started without a huge learning curve. After logging in, users are greeted with that familiar editing interface which is, in turn, broken down in Media, Upload and Graphis sections.
Under the Media tab, users can access Video, Image, Audio and Story subsections. While the former are fairly straightforward organizational folders to house media files, the latter is a key unique feature that Story offers over other online video editing offerings.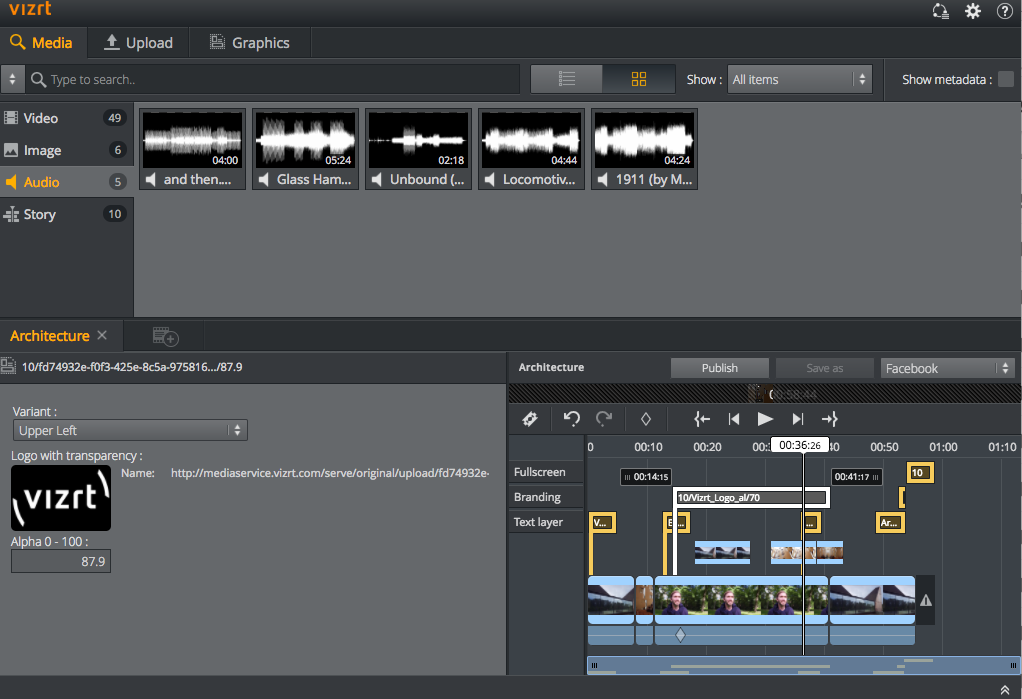 The Story folder, which appropriately shares its name with the platform itself, holds template-based projects that can be used as jumping off points to quickly build video clips using predefined formats.
This feature not only makes it faster to build video-based content, but also serves as a way to maintain consistency from project to project while still allowing content creators the flexibility to create unique stories.
During the entire creation process, the interface shows pillar box-style shaded areas on either side of the video screen, showing creators what the square version of the project will look like — an important feature for publishing in the social media friendly shape.
This feature also maintains the flexibility of being able to publish footage at full 16:9 aspect ratio on platforms where that is preferable.
The Upload tab, meanwhile, allows users to easily important video, audio or image assets from a variety of sources, including mobile devices, to be combined into a new or existing Story project. This feature, however, is not active in the demo version and therefore was not tested for this post.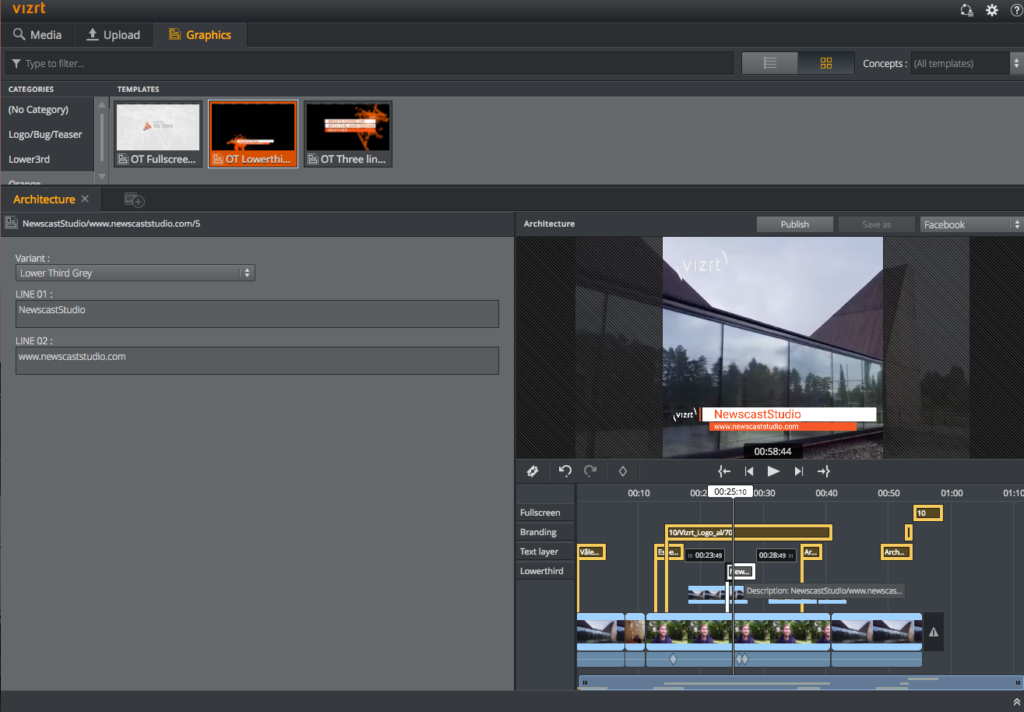 Not surprisingly, the final area of the Viz Story platform centers around the Graphics tabs, which gives users the ability to add lower thirds, OTSs, bugs and other traditional graphics package elements, including the ability to type in relevant text right from the browser using predefined templates for maximum brand consistency.
Users can also integrate one-off topical graphics and text for explainer style videos with a variety of animation settings as needed.
Once a project is complete, users can publish it to a variety of platforms, though this functionality was not fully functional in the demo version.
The system appears to use a cloud-based rendering engine to both create the video file and publish to social media or OTT platforms defined by a system administrator.
"Today a higher percentage of people are viewing content on social media and online than watching television. The mobile first strategy has been growing for the last ten years but video on social media has had a recent explosion," notes Tveit.
Viz Story looks to be a promising new development from Vizrt that will give media outlets the ability to create and upload content to emerging platforms rapidly while maintaining a higher level of production quality.
"The first version of Viz Story, which is what you see today, is designed to fit into the workflow of an established media company who has a Vizrt graphics infrastructure," said Tveit. "This will allow the user to have access to the graphics templates and video content already in use in their editorial environment."
With the rise of explainer videos, video packages and other short form video content for OTT services and social media, the service is likely to become a key player in this new arena in content development.
"In the editorial department, a journalist or producer can quickly edit short versions of their stories that will be used on air from their desktop – whether in the newsroom or out in the field on a laptop, add in social media text on video-style graphics for social media distribution. The finished story can be rendered in multiple resolutions and aspect ratios and automatically be distributed to the target channels."
The latest update to Viz Story will launch soon, featuring a more robust auto editing framework.