NBC Boston shows off new sky, road fleet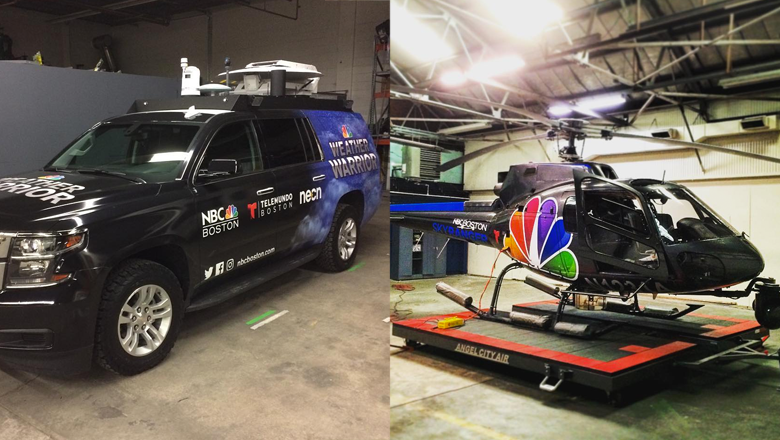 With the launch of NBC Boston quickly approaching, the station is teasing key members of its fleet — for both the roads and sky above.
The station, which goes live on WBTS-TV Jan. 1, 2017 and will mark NBCUniversal's entry into the Boston market with an O&O, has posted photos of both its "Weather Warrior" vehicle and "Sky Ranger" helicopter.
Both are equipped with live HD broadcasting capabilities, with the Weather Warrior being a retrofitted Chevrolet Suburban equipped with KA-Band Dejero IP broadcasting technology.
The Weather Warrior livery features the NBC peacock logo along with a silvery logotype, while also including the NBC Boston, Telemundo Boston and New England Cable News logos, indicating it will be used across all three platforms.


The "Sky Ranger" helicopter, meanwhile, has its own Instagram account and is emblazoned with a large NBC peacock but appears to only include "NBC Boston" branding, though that certainly doesn't mean it won't be used across all three outlets.
https://www.instagram.com/p/BOPfmXAj8QF/?taken-by=skyrangernbc

In addition to this chopper and weather truck, the station will also have a fleet of more traditional, microwave powered live trucks for live shots, as well as access to the east coast "Storm Ranger" vehicle, which is equipped with a mobile radar dome, shared by NBC O&Os in New York, New Jersey and Philadelphia.
Don't forget — your can generate your own TV helicopter name with our generator!