NBCU rolling out 'StormRanger' fleet at O&O stations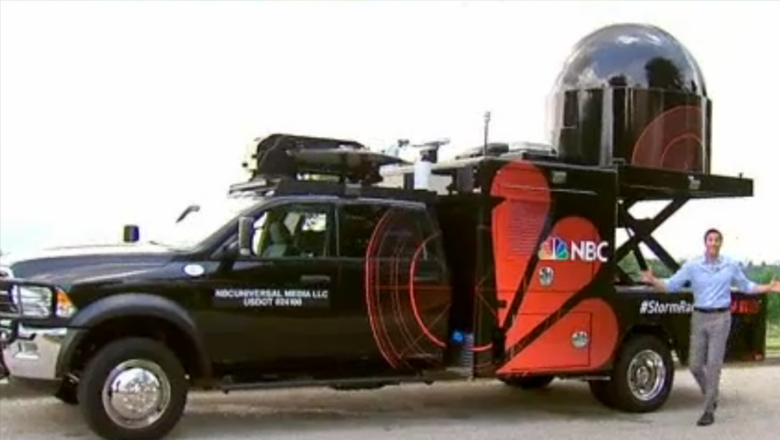 NBCUniversal is rolling out a small fleet of storm tracking and mobile radar vehicles that will serve its owned and operated stations.
Dubbed "StormRangers" (or "CazaTormentas" for Telemundo stations), the new vehicles will be equipped with X-Band, dual polarization radar equipment.
The first vehicle rolls out this week at WCAU-TV in Philadelphia and will "roam the Northeast corridor," according to an NBC press release.
Two additional vehicles will hit the road by the end of the week covering the Dallas-Ft. Worth, Chicago, Los Angeles and Southern California markets.
[field name=iframe]
In total, three vehicles will serve all of the NBC O&O stations in the country, with vehicles deployed around the country as needed.
The trucks feature a bold black and red livery that merges stylistic radar "bands" with the NBC peacock.
Local audiences will be able track the StormRangers through NBC- and Telemundo-owned stations' desktop and mobile websites and station apps, says NBC.
Additionally, app users will receive push notifications when StormRangers are tracking storms and severe weather in their home market. Having real-time access to this crucial weather information may help viewers better prepare for and keep their families safe from severe weather.
"We are boosting our weather forecasting capabilities by building, from scratch, the first-of-its-kind fleet of mobile weather radars in the country because we know how important weather is to our viewers," said Valari Staab, president, NBCUniversal Owned Television Stations in the statement. "All of our stations will have access to this groundbreaking weather technology so they can deliver even more lifesaving weather information to their communities."
The StormRangers feature an X-band, dual polarization, doppler weather radar with a range of 75 miles fixed atop a Dodge Ram truck.
"This radar technology and mobile configuration is a first for any TV station or network of stations in the U.S," said Richard Stedronsky, a meteorologist and director of strategic business development and partnerships at Enterprise Electronics Corporation in the statement. "The NBC and Telemundo owned stations are the first to deploy a fleet of mobile doppler radars in the nation."
The StormRanger's high-resolution and narrow-pulse radars also have the capability to scan storms at the lowest atmospheric layers, allowing meteorologists to determine the exact location of a storm, including its strength, its speed and where it's headed.
Each StormRanger will also be better able to detect snow, light rain, hail, and particles in the atmosphere, as well as tornado debris fields and smoke.
"The radar beam from a fixed radar is too high in the atmosphere to see lower weather phenomena, but that's where severe weather takes place – in the lowest parts of the atmosphere. With StormRanger, you can take your viewers to the weather and gather information that a traditional fixed radar could be missing," added Stedronsky.